by Dmitry Orlov
Americans tend to be rather bad at geography, and often find out that a country exists, and where it is on the world map, only after their troops invade it. That's how it used to be; now that America is too broke even to pay their own air traffic controllers, never mind stage military invasions, the moment of discovery will occur when people from some country or other come over and settle scores by attacking Americans. What goes around comes around. America's latest voyage of geographic discovery has taken it to Chechnya, where, following the collapse of the USSR, unbeknownst to most Americans, their government offered covert support to "pro-independence forces," "separatists," "insurgents," "terrorists," or whatever the increasingly tongue-tied US State Department decides to call them next.
Since Chechnya is in the news, now that two of its best and brightest have been accused of bombing the Boston Marathon, I would like to assist Americans on their voyage of discovery and enlighten them about the Chechens—the amazing people their wise government chose to befriend on their behalf in order to hurt their other friend, Russia, in its hour of need. After all, is there ever a better time to kick a friend than when he is down?
I now turn it over to someone who knew the Chechens very well. If, in the course of reading this, you discover that you don't like your friends the Chechens, here is a word of advice: stop complaining.
Sergei Maslenitsa was a simple Russian lad who was born and grew up in Chechnya, in Shelkovskaya Stanitsa, a Cossack encampment, into a family of Cossacks and hereditary warriors. Born in 1972, he went to kindergarten with Chechen children, then went to school with Chechens, and fought with them even as a child. And then, in 1991, the Chechens slaughtered his parents, along with most of his relatives. At the time, Sergei was far away in Ryazan, studying at a military academy. After graduation he went back to Chechnya, to take revenge. He fought in both Chechnya campaigns, was repeatedly wounded and received highest military decorations, but after Captain E.A. Ulman, another Captain in the Chechnya campaign, was sentenced for following explicit orders to shoot Chechen civilians, he submitted a very rude report in which he referred to Putin as "Commander in Shit," gave back all of his medals, and went into the reserve.
After concluding his military service, Sergei became a successful builder, transferring a share of his profits to the families of fallen comrades. He also worked with troubled youth, drug addicts and alcoholics, getting them to quit, getting them involved in sports, teaching them Russian history, language, taking them on expeditions into the mountains. This he considered the most important work of his life.
On September 1, 2010, Sergei and his wife were driving on a federal highway when an accident occurred ahead of them, in which one of the cars flipped over and started burning. Sergei pulled two passengers out of the burning car, and when he went back to pull out the third, the car exploded.
I found the following text in a collection of Sergei's Internet forum posts. The translation is my own.
I was born and grew up in Chechnya, in Shelkovskaya Stanitsa, Shelkovsky Region, Chechen-Ingush Autonomous Soviet Socialist Republic. I crossed paths with the Chechens from early childhood. And even then I was impressed by how much stronger they are in spirit. In the kindergarten, there were constant fights between Russian and Chechen children, after which their parents were summoned. On the Russian side, it was invariably the mommy who came, and nagged her son: "You shouldn't fight! Fighting is bad!" On the Chechen side it was invariably the father who came. He slapped his son upside the head and told him: "How dare you lose a fight to a stinking Russian—the son of an alcoholic and a prostitute? Tomorrow you thrash him so hard that he pisses himself from fear any time he sees you!" In school, hardly a day went by without a fight. I usually had to fight against superior numbers, in spite of the fact that in my class there were just five Chechens and fifteen Russians. And while I alone was swinging back at the five, the other fourteen stood around gazing at their shoes.
We were constantly being pressured psychologically, tested for weakness. One sign of weakness, and it's the end—they thrash you so hard that you never get up again. Once I was ambushed by a group of Chechen upperclassmen. In fighting them off, I cracked the skull of one of them using a steel pipe. They stopped fighting and dragged their casualty away. The next day in school I was approached by some Chechens I didn't know, who challenged me to a knife fight—to the death. When I showed up, there were fifteen of them waiting for me, all grown men. I thought that they would simply kill me.
But they respected the fact that I came alone and didn't show fear, and they put forward one fighter. They gave me a knife, while the Chechen approached me unarmed. Then I tossed the knife away and we fought with bare hands. As a result of that fight, I ended up in hospital with fractures. When I was released I was met by the father of the lad whose head I smashed in with a pipe. He said to me: "I see that you are a warrior and that you do not fear death. Be a guest in my house." After that we had a long talk. He told me about adats (Chechen tribal customs) and about the upbringing which turns Chechen boys into warriors. He told me that we Russians are faggots who forgot their roots, stopped listening to their elders, turned into alcoholics, degenerated into a herd of cattle and stopped being a people. That was the moment when I started to change, or, if you will, to become myself.
And then the good times arrived. Russians were being slaughtered in the street, in broad daylight. I saw with my own eyes how a group of Chechens surrounded a Russian lad in a bread line. One of them spat on the ground and told him to lick it up. When he refused, they cut his belly open with a knife. Another time, in school, a group of Chechens stormed into a classroom in the middle of a class, selected the three most attractive girls, and dragged them away with them. Later we found out that the girls were presented as birthday presents to a local Chechen criminal authority.
And then the times got even better. Fighters came and started to cleanse the Russian population. At night we could hear the screams of people who were being raped and murdered in their own houses. Nobody came to their help. Each person was alone, quivering with fear. Some even proposed an ideology for their inaction: "my home is my fortress." (The person who said this is no longer alive; the Chechens draped his guts over the fence in front of his house.) That was how they could eliminate us, cowardly idiots, one by one. Tens of thousands of Russians were killed, a few thousand ended up as slaves or in Chechen harems, hundreds of thousands fled Chechnya in their underwear. That was how the Chechens solved the "Russian problem" in their separatist republic.
And the only reason they succeeded in doing so is because we were total shit. We are still shit, but not quite so liquid, and in that shit there are some steel particles. And when these particles coalesce we have incidents such as what happened in Kondopoga [a famous incident in a town in Karelia, a region next to Finland, where, after Chechen migrants murdered several locals, the locals staged an old-fashioned pogrom and the government had to evacuate 100 Chechens]. There aren't that many of them yet, but the Chechens are doing an excellent job of reforming us. Russians now are fundamentally different from the Russians of 1991. In 1991, in Shelkovskaya Stanitsa, a single armed Chechen killed more than a hundred Russians, walking from house to house, calmly shooting and reloading. Nobody dared oppose him. But just 15 years later, in Kondopoga, in Tver, in Stavropol the Chechens got thrashed. They are first-class predators, and as a result of their mission of cultural enlightenment Russian cattle is once again becoming a people.
And now it's time for one final excerpt—about the role of the Chechen mafia in Russian organized crime during the lawless 1990s—from The Five Stages of Collapse, which is finally done being printed and will start shipping in another couple of weeks.
Yet another group that swelled the ranks of racketeers was the Chechen mafia. The Chechens' success in forming criminal organizations had much to do with their tribal structure and practice. In Chechnya, land has always passed from the father to the eldest son, forcing other sons to leave home and become raiders. While they were at home, they had to pay absolute obedience to the tribal elders, but while away their freedom of action was absolute. When they brought home the loot, they were received as heroes and the most famous (or infamous) ones came to be celebrated in song and legend. Thus, in Chechen society, predation on their neighbors evolved into a high-status occupation. It was not seen as morally reprehensible on any level, because according to sharia law enrichment at the expense of the infidels is an honorable activity. The Chechens were never known for loving their neighbors, but the Russian conquest of the region under Alexander II was by far the most humiliating event in Chechen history and gave rise to an eternal and implacable hatred toward the Russians. These sentiments were only further deepened when Stalin exiled four hundred thousand Chechens to Kazakhstan after World War II, as punishment for their dalliance with Hitler. All of these factors made the appearance of a Chechen criminal class eager to heroically settle scores almost inevitable.
The Chechen mafia started preying on the kooperatívy during the perestroïka years, eventually becoming the largest and best-organized criminal organization in Moscow. They survived several rounds of violent conflict with local Slavic criminal groups, but most of their original members are now either dead or in jail. Nevertheless, over the course of the 1990s they not only ran Moscow's largest racket but also ran illegal, underground banks and traded precious metals, oil and weapons. Eventually the Chechen mafia moved away from racketeering and diversified into hotels, banking, shell companies and money laundering. It now operates a large number of diversified trading companies in commodities such as oil, lumber, gold and rare earth minerals. On paper these companies feature Russian figureheads, making them difficult to spot. During Chechnya's separatist rebellion, the vast sums they amassed were used to finance the separatist regime of Dzhokhar Dudayev.
Please order your copy of The Five Stages of Collapse: Survivors' Toolkit for shipment in May.
(Although the order is placed through PayPal, you don't need to have a PayPal account; just click "Don't have a PayPal Account?" during check-out and enter a credit or debit card number. If you do have a PayPal account, please make extra-double-sure that the shipping address associated with it is up-to-date and correct, and will remain that way through May.)
One year after the infamous Jamie Dimon "tempest in a teapot" fiasco, which promptly turned out to be the biggest TBTF prop-trading desk debacle in history, things were going well for JPMorgan.
On one hand, the chairman of the TBAC (and thus US Treasury advisor and policy administrator), and former LTCM trader, Matt Zames, was just recently promoted to the sole second in command post at the biggest US bank (and 2nd biggest in the world) by assets, and first in line to take over from Jamie Dimon. On the other hand, one of Mary Jo White's former co-workers, and a JPM defense attorney from Debevoise just became head of the SEC's enforcement division, in theory guaranteeing that the US government would never do more than slap the wrist of JPM in perpetuity.
And then, when everything seemed like smooth sailing ahead, the Federal Energy Regulatory Commission (FERC) showed up on March 13, the day before Carl Levin's committee released its latest report on JPM's prop trading blunder, and according to the NYT, alleged that JPM in the past several years, quietly became nothing short than the next Enron.
Government investigators have found that JPMorgan Chase devised "manipulative schemes" that transformed "money-losing power plants into powerful profit centers," and that one of its most senior executives gave "false and misleading statements" under oath. The findings appear in a confidential government document, reviewed by The New York Times, that was sent to the bank in March, warning of a potential crackdown by the regulator of the nation's energy markets.
Another "tempest in a teapot"… Or is JPM reprising the role of the most hated company from the early 2000s, Enron, now that absolutely everyone's attention is focused on its purportedly criminal activity, potentially a problematic development? It very well might be.
The JPMorgan case arose, according to the document, after the bank's 2008 takeover of Bear Stearns gave the bank the rights to sell electricity from power plants in California and Michigan. It was a losing business that relied on "inefficient" and outdated technology, or as JPMorgan called it, "an unprofitable asset."
Funny: another "case" that has arisen, so far at mostly in the tinfoil hat periphery of the blogosphere is that JPM also inherited some massive precious metal shorts when it was handed over Bears Stearns on a Fed-subsidized silver platter, and it is the legacy of these short positions that has encouraged various JPM employees, such as Blythe Masters for example, to not only do everything in their power to push the price of gold and silver lower, but to align directly with the Fed, which wants nothing more than to destroy every single last believer in real, not paper-based, "quality-collateral."
For now, however, let's get back to what was previously conspiracy theory, and is now fact:
Under "pressure to generate large profits," the agency's investigators said, traders in Houston devised a workaround. Adopting eight different "schemes" between September 2010 and June 2011, the traders offered the energy at prices "calculated to falsely appear attractive" to state energy authorities. The effort prompted authorities in California and Michigan to dole out about $83 million in "excessive" payments to JPMorgan, the investigators said. The behavior had "harmful effects" on the markets, according to the document.
Uh-oh. Sounds suspiciously close to what a certain Houston firm, once upon a time called Enron (advised by none other than one Paul Krugman) was doing to the California electricity market. And where the FERC and legacy ENRON instances arise, sparks are sure to fly.
But what is worst for JPM, and its brilliant (abovementioned) employee, often times credited with creating the Credit Default Swap product and market (simply an instrument to trade credit with negligible upfront collateral and thus allow equity option-like speculation in the credit realm), is that FERC may be seeking to throw the book at none other than Blythe Masters.
In the energy market investigation, the enforcement staff of the Federal Energy Regulatory Commission, or FERC, intends to recommend that the agency pursue an action against JPMorgan over its trading in California and Michigan electric markets.

The 70-page document also took aim at a top bank executive, Blythe Masters.
Blythe did a bad, bad thing. So bad she lied about it under oath.
The regulatory document cites her supposed "knowledge and approval of schemes" carried out by a group of energy traders in Houston. The agency's investigators claimed that Ms. Masters had "falsely" denied under oath her awareness of the problems and said that JPMorgan had made "scores of false and misleading statements and material omissions" to authorities, the document shows.
Oops. And it's only downhill from here, because what follows, are the two scariest words a banker can hear in the context of a potential enforcement decision: "individually liable"
For now, according to the document, the enforcement officials plan to recommend that the commission hold the traders and Ms. Masters "individually liable." While Ms. Masters was "less involved in the day-to-day decisions," investigators nonetheless noted that she received PowerPoint presentations and e-mails outlining the energy trading strategies.
And some more scary words: "systematic cover-up"
The bank, investigators said, then "planned and executed a systematic cover-up" of documents that exposed the strategy, including profit and loss statements.

In the March document, the government investigators also complained about what they said was obstruction by Ms. Masters. After the state authorities began to object to the strategy, Ms. Masters "personally participated in JPMorgan's efforts to block" the state authorities "from understanding the reasons behind JPMorgan's bidding schemes," the document said.

The investigators also referenced an April 2011 e-mail in which Ms. Masters ordered a "rewrite" of an internal document that raised questions about whether the bank had run afoul of the law. The new wording stated that "JPMorgan does not believe that it violated FERC's policies."
Looks like the FERC disagreed. But how could it? It was only a year ago that Blythe was on CNBC promising that not only she, but JPMorgan would and could never do anything wrong in the commodities, or any other, arena. Who can possibly forget her unforgettable platitude: "What is commonly out there is that JPMorgan is manipulating the metals market. It's not part of our business model. it would be wrong and we don't do it."
But… if she fabricated data, blocked regulatory investigations, and lied under oath could she possibly also have… lied to CNBC? No… that is unpossible.
So what happens next?
Well, JPM can hope that its guy at the SEC, Andrew Ceresney, who happens to be in charge of the porn-addicted agency's "enforcement" division, has just enough clout to make that other regulator, the FERC forget all about its inquiry, and its factually-justified allegations.
Or, failing that, and should justice finally prevail in this banana republic for one of the TBTF banks, what may just happen is that Blythe may end up in prison. Minimum security, of course, and for a very brief period of time, with all of her (allegedly) ill-gotten and accumulated wealth waiting for her upon reentry into society. And that's fine.
But what we hope for is that there is at least a brief period of time when Blythe's finger is not be on the gold "sell" button. Not because we want to be deprived of the opportunity to buy physical gold and silver at far cheaper than fair value prices (which, by the way, are meaningless when expressed in dying fiat), but because we are simply curious how high gold may go should JPM's commodity queen finally be put away temporarily… or permanently.
Even for a total banana republic, this does not seem like such a far-fetched request.
Will JPMorgan's "Enron" Be The End Of Blythe Masters?
by Jim Willie
The Fascist Business Model came into vogue in 2001. The merger of state with the largest of corporations, primarily the big banks, the big defense contractors, the big news media networks, and the big pharmaceuticals, has created a chokehold around the neck of the nation, without 5% recognizing the function of the model during the strangulation in progress. The merger with the deeply corrupted corporations in power became standard fixtures following the 911 attacks, an elaborate self-destruction of the fundamental structure of the nation and its priorities by the syndicate. Think a massive elaborate bank heist of gold bars, bearer bonds, and diamonds, but such discussion belongs in other venues. Let it be said that the events of September 2001 were the syndicate coming out party and the Patriot Act their Nazi Manifesto, with painfully little recognition of events by the sheeple masses or the subservient press talking heads. The national socialists are back in force after a 70-year hiatus, with far more toys and devices. Their telltale signals are bank welfare and a flag wrapped in a cross with unending press coverage of terrorism. During the last twelve years, financial treachery and banking criminality have run rampant in a true global spectacle, their stock & trade. However, treachery with permitted bank and bond fraud, rigged financial markets, naked short ambushes, flash crashes, and lawsuits that convert criminal procedures into standard low business costs all have resulted in profound consequences.
The entire world has reacted, with some significant momentum having been generated in the last year. Back in 2009, repeated in 2010, the Jackass had stated that the nations who are first to move toward a non-USDollar system will thrust themselves into a global leadership position while at the same time permit a recovery from the cancerous fiat currency system led by the USDollar as reserve currency flagship. A basic tenet, the security forces are given more power when security is undermined, even if violent events are perpetrated by the security agencies themselves in great spectacles. The Western nations really truly sincerely need a wake-up call on reality, and it is coming as a paradigm shift with shock waves. But consequences have a way of developing out of natural systems in reaction. Some scientific types call it Newton's Law. Others call it the order of natural systems. The Jackass preference is to call it a defensive maneuver motivated by the survival instinct, whereby the cancer or pathology is isolated, trapped, then suffocated and extinguished, left to die on the vine or shed like bad skin.
TREACHERY, FRAUD, PROTECTION
The collection of treacherous practices, most of which emanate from the myriad USGovt offices, have invited stern reaction by the global players. These diverse treacherous practices, often implemented by the Wall Street banks and their ring leader the US Federal Reserve, have invited stern reaction by the global players. The broad cover for treacherous practices, provided protective cover by the USGovt regulatory agencies, have invited stern reaction by foreign nations in a powerful response. The disintegration of the financial foundation built of USDollar steel beams and USTreasury Bond cement blocks has been crumbling and collapsing for the last four years, ever since the Lehman Brothers failure and the integration of Fannie Mae & AIG under the USGovt roof, where their $trillion frauds are kept deeply hidden in the shadows and basement. While the Manhattan Made Men continue to attempt to hold things together, they struggle mightily, lacking sufficient fingers and toes to plug the vast leaky dikes. In response to predation and treachery, the rest of the world has not only been undergoing reaction, they have also been developing the reaction into organized structures. The main victim has been trust and security, for money, bonds, and bank accounts. All property not nailed down is at deep risk. The current wave of treachery and fraud follows the last wave, where most Americans saw their home equity vanish, many foreclosed and jettisoned from the homestead. The public should harbor no trust, while clinging to suspicion toward the leadership crew that undermined security with its own hands.
The list of acts steeped in treachery is long. The reactions are impressive. When viewed as the mosaic for actions coming to pass, the global response is indeed formidable. The micro events are important in their own right, as each hilltop must be retaken and restored. The macro events are what will en masse change the world, as a Paradigm Shift is underway. The United States and its fascist allies are not in control. They will not find a path to retain or regain control. They have no solutions. The most powerful element of the shift has been the movement of gold wealth from Western locations (New York, London, Switzerland) to Eastern locations (China, Russia, Singapore, Taiwan, Hong Kong). Most residents of the United States, the United Kingdom, and Western Europe are in shock, constantly distracted by the sweeping disruptive events led by a) unstoppable government deficits, b) the powerful crumble of sovereign bonds, c) the ruinous insolvency of the banking systems, d) the relentless reign of tax terror, and e) the tragic decline of the underlying economies. The West is sinking in a sea of fecal soup, stirred with the toxic paper spew, infected by the rot of acidic corrosion, weighed down by absent legitimate solutions, exploited by criminal activity in high offices. The treachery has brought on powerful consequences. The Western lords are being deposed. They can appeal for squire posts to the East, or else they can wreck the globe. The biggest question is whether new trade devices will win out over the chosen Western fascist predilection toward wider war, release of more virulent viruses, more obvious slavery pens, and louder propaganda.
MEGA-ACTION & MEGA-CONSEQUENCE
Break the Gold Standard of Bretton Woods Accord:
The action has wrecked the entire global financial system, the destruction a slow burn. The banking leaders are caught in a monetary vise where monetary policy is stuck with ZIRP (0% forever) and QE to Infinity (endless bond monetization purchases). A constant wrecking ball has been applied to the capital structures. Deep damage has come to the financial markets from lost trust, vanished integrity, and no semblance of proper value. The world reacts by searching for a USDollar alternative, since the removal of the Gold Standard has crippled the world and permitted widespread fraud. The new standard will usher in the new Gold Trade Standard. Many are its forces. Many are its motives. Many are its devices. A picture says 1000 words. Observe the Concentric Rings of Death, the great implosion of the USDollar and fiat currency. The rebirth of the Gold Standard will be based in trade settlement, not the banking and currency systems. A grand sidestep is being undertaken under heavy risk. The West controls the banks and FOREX mart. The East has been controlling trade, the emerging economies who finally stand up to demand a voice, even a hand in architecture. They are learning new ways, building new roads, forging new paths.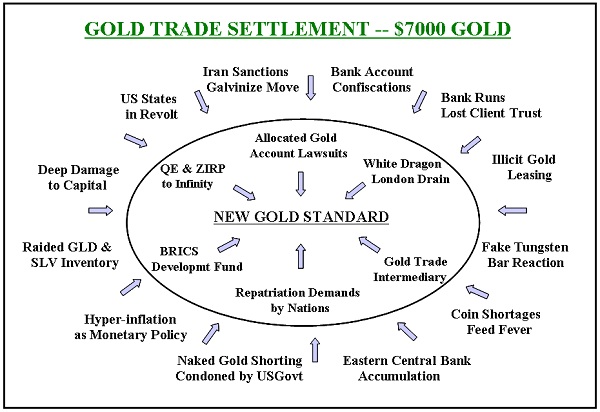 ACTION & CONSEQUENCE:
Quantitative Easing which is bond monetization:
The action has unleashed hyper monetary inflation, known better as hyper monetary inflation by another less euphemistic name. The action constitutes a systematic undermine of assets held in reserve by angry foreign governments in the macro sense. The action debases the USDollar currency, in effect all currencies since they defend by competitive devaluations. Central banks around the world must debase their currencies, or else face economic hardship from lost export trade. The reserves held by governments, including sovereign wealth funds managed by government ministries, all lose value from the inflation effect by the USFed actions in debasement. The consequence is immediate. Eastern nations make decisions to diversify out of the USTBonds, the main US$-based vehicle. They have stepped up their accumulation of Gold bullion in reserves and wealth funds. They seek to discharge the USTBonds, and return them to sender. The owners of PIIGS sovereign debt can simply issue a sell order. But foreign nations must send USTBond back to their criminal underwriters and destructive central bank overlords. They must deploy more elaborate plans, like the Russians & Chinese building the Eurasian Trade Zone, who finance its infrastructure with USTBonds, sending the toxic bonds to London for digestion, then burial.
QE bond monetization which is pure inflation:
The action is hyper monetary inflation, which works efficiently to cause rising prices in the broad micro sense. The design is to raise asset prices in a beneficial way by naive desperate hack architects. The reality is that the capital structures face severe threats. The deeply felt effects have been engrained in rising cost structure, shrinking profit margins, widespread job cuts, and powerful recession pressures within local economies. The stupidity is compounded by austerity measures, which would have had a positive effect 20 years ago, or even 10 years ago. Now they are a death spiral assurance. The consequence is simple survival. The world reacts by searching for and developing a USDollar alternative, a new standard upon which to build viable strong enduring systems with the requisite price stability. The Eastern nations work toward a new trade settlement system which will no longer see USTBonds paper chit exchanged for real goods, either bulk commodity and finished products.
Western central banks talk in empty terms about an Exit Strategy:
The action is constant 0% in place (ZIRP forever) and endless bond monetization in redemption (QE to Infinity). No lessons have been learned by the Japanese monetary corner suffered for 22 years. In summer 2009, the Jackass called the Bernanke Fed a liar, after the pervasive deceptive talk of an exit strategy. They have none, proved each year. The consequence is that Eastern nations band together for a bonafide real Exit Strategy, as the vast array of nations, many led by the emerging economies giants, will depart the USDollar since the American toxic merchants and fraud kings cannot. The banking and FOREX standard out of the West has been the USDollar, steeped in longstanding hegemony. The trade settlement standard out of the East will be Gold, steeped in rebellion. The two fronts will clash for a monetary nuclear war.
Iran sanctions within the banking system:
The story is such poppycock of Iran developing nuclear weapons. They have no weaponized plutonium. They have no missile delivery systems. What they did that was so objectionable was to sell energy products (crude oil & natural gas) outside the USDollar system. Such actions are considered usage of financial devices of mass destruction. The Saddam Hussein regime in Iraq committed the same banker sin. The sanctions are coupled by pressures against the UAE trade artery toward Iran, and pressures against the Turkish gold market working as intermediary to keep the Iranian supply chain filled. The usage of bank SWIFT code bans and lost credentials for Western banks that cooperate with Iran have backfired in a grand way. The resulting reaction in consequence is astonishing. The Iran sanctions have done more to galvanize the entire Eastern nations into workaround devices and elaborate platforms which are coalescing into promising emerging global systems. The Eastern reaction has brought about a global initiative to develop a workable USDollar alternative, but centered in trade. The Gold Trade settlement is the center piece. Its device platforms include the BRICS Development Fund. Its proving ground is the Eurasian Trade Zone.
LIBOR price fixing revealed, bank derivative fraud made public:
The action has permitted the world to observe how the foundation of the entire Western banking system is a deep fraud. Worse, the world is able to observe how no prosecution, no justice, and no remedy will be pursued for banker crimes. The LIBOR and derivative frauds are the next to final exposure to happen. The effect is a stench, a vast distrust across the entire banking system and bank derivative product pricing. The big bank profits are all an illusion based on lies and price rigging. The reaction in consequence is a pervasive perception of a corrupt system in need of replacement, and a willingness to work toward legal avenues. The reaction will be distrust of all asset prices and profound confusion. The reaction will be a vast writedown of wealth in bank failures and financial firm failures.
Allocated Gold Account theft and malicious usage:
In order to make bilateral trade account settlement easier, the New York and London banking centers encouraged settlement to be done on a net basis. They went further, to encourage holding Gold bullion in trust at the New York Fed and at the Bank of England, held on account as special untouchable elite accounts serving as treasury emissary substitutes. They were touched. They were stolen. They were replaced with Gold Certificates of dubious value, without permission. The reaction in consequence has begun as a strong wind, but now a powerful storm. The reaction has been defiance in stated demands for repatriation of Gold Accounts, a return to home locations. Germany is the leader in the movement, a respected nation with deep wealth, sturdy prestige, and a no-nonsense attitude. The extension of the consequence is that a gaggle of private Allocated Gold Accounts are under scrutiny. They were also touched, stolen, replaced with worthless paper certificates. The gathering storm is building force and power. It is the final bank fraud to reveal how over 40,000 metric tons of gold have been stolen, in need of replacement in the open market. The true Gold price will reflect the acute supply shortage. A $7000/oz Gold price might not bring the Demand versus Supply imbalance into proper equilibrium. The price might have to be higher, to offset the gargantuan growth of money supply. The missing gold from supposedly guarded sacred accounts exceeds the central bank holdings in reserve on a global basis.
Phony USGovt citation of gold reserves in form of Deep Storage Gold:
The USGovt takes the public for fools in a global sweeping sense. After leasing and selling all 8500 metric tons from Fort Knox, the Clinton Admin began to put phony entries on the official statements. The arrival of Deep Storage Gold should evoke laughter, even deep guffaws. They are nothing but mountain ore deposits, with a hope of becoming gold bullion some day. If truth be known, the grand misfortunes experienced at Barrick Gold, with shutdown of their Pascua Lama mine on the Argentine Andes, will interrupt the process of bringing the deep storage gold to the COMEX. Also, whatever portion of the Kennecott Utah mine output was due to see the COMEX vaults, it will not arrive anytime soon either. The landslide will curtail delivery for at least a year. The reaction in consequence by Eastern nations is to build gold reserves. They realize the United States, the Canadians, and the British are liars on almost all matters of gold accounting in reserves. The USDollar, the Canadian Dollar, and the British Pound have no collateral. Neither does the Euro currency. The Eastern nations will accumulate much faster than they claim. The Chinese and Russians have an order of magnitude more Gold bullion held in reserves than they admit. They feel no urge to share the truthful proper count.
Big US bank gold & silver naked short positions:
The practice of naked shorting (sales with no intention of ever delivering the metal bars on the loading ramps) is plain illegal and corrupt beyond description. Imagine selling Mercedes Benz cars to push the price down, never to delivery the cars. The incredible sham takes place every day in the COMEX market, supported by the LBMA in London. The so-called paper gold price has no bearing or connection anymore to the physical Gold price. The consequence has been a profound shortage of gold bullion, gold bars, gold coins, and gold talents, even gold jewelry. The Eastern nations have responded by building gold reserves in much greater volume, sensing massive shortage of precisely what would stabilize the monetary system, namely Gold. The global market for various gold products has responded by imposing a premium on the official gold price, since it has become a forced cocktail of meaningless rubbish with a slimy foam head. The other more heart felt
consequence is the return removal of Eligible gold in COMEX within the JPMorguen vaults. They have fallen by a reported 65% in just two days of vacated metal. The JPMorguen crew have handled a reported 99% of all gold delivery requests in the last three months time. A bank run is occurring, not in the commercial banks, but in the JPMorguen vaults where Chased out are the gold bars.
Wide distribution of tungsten fake gold bars in the 1990 decade:
The action was largely directed at Hong Kong, the port for China. The volume according to my sources is beyond a thousand fake gold bars sent to Hong Kong banks during the Clinton-Rubin era. The reaction is an unspeakable anger and resentment. The remedy pursued in order to keep the lid on the scandal appears to be a secretive drain of US gold sent East by refiners (not central bank). Doing so enables it to be classified as Industrial Gold Supplies in the official trade data. The big red thumb in the data is the arrival of an outlier of exports to Hong Kong that did not exist last year. The more profound consequence is the intense scrutiny over Allocated Gold Accounts and their demanded repatriation. The bars are being assayed, verified, even recast. The distrust of the vile New York and London bankers has reached high pitch on the global stage.
Slug US coins in usage since 1965, making official coins mere plated tokens:
The action has revealed the shell game deployed by government officials in their management of money. In ancient times, money was metal held in hand. The sophisticated criminal bankers have been unable to conceal the duplicity in money beyond coins as bonded securities became the standard. In past Roman times, the practice was called sovereignty, whereby the leaders would skim small amounts of gold from coins for personal accounts and family wealth tucked away. The American trend setters have gone far beyond what ancient Romans did. They have removed over 90% of the precious metal in circulated coins. They went the rest of the way to 100% by making paper the recognized legal tender, with zero gold backing to the USDollar. By breaking the Gold Standard in 1971, the USDollar has no gold in support. The coins are a mere side show. The consequence is an exercise in Gresham Law. Good forms of money are removed from circulation, removed from the risk that others might recognize their higher value than the worthless slugs circulating among hands. The coin market has seen fit to call the pre-1965 silver coins a strange name, Junk Silver. Their value is multiples greater than face value, a great embarrassment and signal flare of corruption.
Raids against the GLD & SLV exchange traded funds:
The entire design of these sham deceptive ETFunds is brilliant. The Wall Street and London City designers deserve credit for building a Trojan Horse that has been ridden for almost ten years by absolute morons and lazy dolts, the greatest dupes ever to walk within the gold community gates. The dupes include meatheads like Adam Hamilton and other supposed wise men. The consequence in this case is not a retaliatory deed, but rather a drainage of the inventory at a rapid rate. Officially known as the SPDR Gold Trust, the GLD gold inventory is enjoying a half-life of destruction. Spare the engineering details. Note that on or about April 22nd, a whopping 18.3 tons were removed. An acceleration is plainly evident over the last few months. The first 50 tons took 75 days to depart the vaults. The next 100 tons took 48 days to be loaded off and depart. The next 100 tons took a mere 13 days to vanish. The most recent 100 tons took under 7 days, as the acceleration continues apace. At the current rate of departure, the SPDR Gold Trust will be vacant in around two months time. The refill replenishment will be required by the Swiss castles and Roman catacombs, but not the Tower of London (since nearly bone dry). Forget the embarrassing negative premium inherent to the ETFund over the last three years. Zero inventory is far more an embarrassment. The big questions are whether the indescribably stupid investors will notice, and whether lawsuits will hit the scene to bite hard.
Bail-in solution for bank failure, Cyprus style:
The action is devious and destructive, whereby banks will talk of recapitalizing within elaborate restructure events. However, when the dust clears, the evidence is plain that the change to be seen will be dead banks in dissolution with private bank accounts vacated. In other words, razed leveled banks with no functioning operating offices, and bank accounts showing zero balances. The consequence is ugly and powerful, lost client trust in the banking institutions. Faith is a key ingredient to stable systems. The US account holders will be treated with stock shares in conversion for the dead banks, whose value will converge quickly to zero. Same effect, lost accounts. Expect soon the result to be a climax with bank runs. The bank runs will coincide with bullion bank runs, the fast removal of gold held in inventory vaults at the bullion banks, including JPMorguen and the GLD exchange traded fund.
Phony big US bank accounting with FASB blessing:
In April 2009 a seminal event occurred, whereby the big financial institutions were given permission legally to declare any value they wish for their assets held on balance sheets. What an incredible travesty, like giving children the authority to grade their own school exams. Or like giving Al Capone the authority to approve his own tax returns. Naturally, almost all the big US banks pass the Street Tests, those shams to put a second layer of phony legitimacy on balance sheet wreckage. The consequence is multi-sided. The big US banks have grown dependent upon the USTBond carry trade for rebuilding their balance sheets. They borrow for free and invest in 10-year or 30-year USTreasurys. They tend to have no profitable business segments, not from commercial lending, not from investment bank functions like bond and stock issuance, not from credit cards. The banks have in the process lost their commercial credit function within the USEconomy. They have become casinos for carry trade, derivatives, even money laundering.
Most Favored Nation status granted to China, with a Golden twist:
The pact was secret but its ugly features finally became known. The Wall Street bankers shepherded a curious pact in 1999, whereby China would lease to the syndicate bankers a sizeable portion of the Mao Tse-Tung era gold. China would benefit from a wave of foreign direct investment starting in 2002, to build a critical mass of factories, enough to industrialize the nation. With trade profits, they would recycle the surpluses into USTreasury Bonds, just like the Saudis agreed to do, beginning in the 1970 decade. The Wall Street bankers were thus able to continue their gold leasing game. They had gutted Fort Knox and its ample tonnage. They continued with the Chinese gold, leasing it to support the price suppression. The Wall Street Boyz did not honor the pact, did not return the Chinese gold in 2007, thus the trade war heated up fiercely. The consequence has been a multi-lateral trade war, culminating in a deadly conflict that has the Beijing leaders motivated to kill the USDollar as global reserve currency on numerous grounds. It is not worthy, the object of monetary inflation decided upon unilaterally by the USFed central bank. It is the common denominator of wrecked banking systems. It is the credit card for consumption, even foreign aggressive wars. It compensates for what the United States lacks in industry. The ultimate consequence will be the United States losing its privileged global reserve currency USDollar, suffering imported price inflation, contending with supply shortages, and entering chaos. The Third World will be the death sentence, complete with a vast police state and utter brutality.
Reliance upon asset bubbles in USEconomy, dependence upon housing bubble:The decision to dispatch the bulk of US industry to China from 2001 to 2004 was a critical turning point in the USEconomy. It convinced the Jackass immediately of political and corporate sabotage of the nation. To forfeit industry and the legitimate income was to put the nation at systemic risk. Any dependence upon the housing and mortgage gigantic asset bubbles for the USEconomy consumption spending was a perilous step to lock in. At the time, the Jackass expectation was for the twin bubbles to bust around 2006 or 2007, sending the nation into an uncontrollable tailspin. The actual years were 2007 with the subprime mortgage bust and 2008 for the Lehman bust. The Wall Street mavens attempted to sell the clean industry plan of financial engineering within an advanced system and sophisticated economy. They failed, as did the phony offset risk structures. The consequence is the nation approaching systemic failure amidst unstoppable central bank hyper monetary inflation, with the Weimar nameplate on the overheated printing press. The consequence is the collapse of Europe in tandem, and a revolt among Eastern nations which seek a USDollar alternative for both trade settlement and banking reserves management.
The TARP Fund following the Lehman/ Fannie Mae/ AIG bust: A major turning point for the public to wise up to Wall Street criminality was the $700 billion TARP Fund designed for the big US bank system rescue. The USCongress and the public were told that $700 billion was urgently needed to keep the lending channels flush with cash, so as to avoid a systemic seizure in the entire credit system. The arrogant megalomaniac vile bankers instead funded preferred stock for the big US banks, and made sure executive bonuses were funded as well. The largest US banks quickly became giant hollow reeds without hope of remedy. The bankers in firm control of the USGovt realized that directing funds to the credit lending pipelines would not have avoided insolvency and ruin. So they filled their pockets. The consequence was the lost trust by the public of big US banks, which slowly they realize are crime syndicates immune from law. The Too Big To Fail banks are widely regarded as now Too Big To Jail, a big shift in perceptions. The popular movements began, alongside the scattered lawsuits.
Abuse of Petro-Dollar arrangement with accomplice OPEC Saudi leader:
Claiming that the USTBond was our debt but your problem, stated to foreigners, was arrogant and callous. It invited a response. The many energy importing nations have been forced to pay for crude oil with USDollars for over four decades. They resent the stricture, since it means they must arrange for USTBonds to serve as the reserve foundation within their banking systems. Numerous fronts have been engaged with non-USDollar alternatives in response. However, Russia has a unique strategy as consequence, sure to weaken the OPEC cartel and possibly to force its crumbled path. The Russian energy giant Gazprom is working avidly to create a NatGas Cartel. Several large natural gas producers are already onboard, like Iran and Qatar. Their devices are pipelines and liquefied natural gas terminals. The zinger in the NatGas new coalition is Qatar, already a key OPEC crude oil player. The coffin nail in the new coalition could be Israel, whose Tamar floating natgas rig in the Mediterranean has promised to send surplus output through the Gazprom system to European customers. Add Cyprus to the Med mix, and Gazprom has captured Europe with its new cartel.
Criminal banking activity, with collusion and protected by USGovt ministries and agencies:
Since the 1990 decade, the criminality has become deeply rooted. The gutting of Fort Knox by the Clinton-Rubin Admin was the main seminal event. It climaxed in the 911 false flag event that still confuses half the nation of sleepy dopey types. The 2000 decade featured the mortgage finance bubbles, laced with massive fraud. Its primary clearing house was Fannie Mae, which proved useful for several other fraud rings run by the USGovt, thus requiring its formal adoption and certainly not liquidation with prying eyes. Fannie Mae is the multi-$trillion fraud store that is linked to most every scummy seamy slimy game run by the USGovt. The consequence of the permitted and impervious banking sector criminality can be seen from the inside and from the outside. The domestic front saw the rise of Occupy Wall Street, which federal police and local police conspired to label as terrorist. The movement has been disbanded easily. The more powerful threat might be the secession movement combined with states pursuing gold for usage as legal tender, even applied for debt satisfaction. Those are critical points cited in the Constitution when defining MONEY. The US States have begun to exercise their independence via the Tenth Amendment with secession movements. The foreign response is more toward isolation of the United States, both for its governing bodies and its currency, which means the USTreasury Bond flagship will lose its reserve status. Numerous reports hit my desk of foreign corporations and even government ministries not returning phone calls in a grand global shun of US offices. They object to the arrogance and practiced hegemony on financial matters in a queer global kingdom manifestation. The USGovt acts like a global emperor, and foreign nations resent it. The recent FACTA test is worth watching for reaction. Generally the East ignores it, while the West dislikes it. Switzerland will not deal with US citizens in banks any longer, a cheaper alternative. The isolation has parallels in seeking non-USDollar alternatives.
The confusion of money, ordained debt backed money used as legal tender:
The floating currency system used by the United States and the West has a pernicious undercurrent, whereby by default the Western currencies are deemed essentially as denominated debt coupons, designated for usage as money for managing transactions and settling debts public and private. The West thereby has confused money with legal tender for several decades. The Western money is not money, but rather denominated debt. The foundation of the monetary system is sovereign debt, in deed, in reality. Not 1% of the American public comprehends this subtle but highly important point. The super abundance of debt has reached crisis levels, and has been in writedown phase for over four years, since the Lehman Brother signal flare event. The phony debt based money has persisted. For decades the wealth accumulation process has been laced with the cancer of phony money. As the debt correction occurs in accelerated speed, the sovereign debt of the West undergoes deep losses. In the process, the nasty consequence is that entire national wealth vanishes as part of a debt writedown. It can be seen in the planned failures of systemically important financial institutions (SIFI), as the Bail-In features wipe out private accounts. The private accounts for savings, stock accounts, futures accounts, even pensions, are merely badly defined debt markers within the vast cockeyed skewed misaligned perverted system. Much of the US private wealth will vanish in the debt writedown and financial firm failures, one decade after phony home equity wealth vanished in a similar manner.
Ambush of the gold market in mid-April, reported as a massive selloff:
The gold market selloff was as shocking an event as it was pathetic. It was as destructive an event as it was hilarious to observe. The bankers committed suicide on the global stage. Rather than permit a London and New York gold market default, they committed a grand illegal act by selling $20 billion in gold through paper certificates in two days. The grand sale was executed without benefit of any metal changing hands, without promise of any metal changing hands, with full protection by the USGovt for its criminal actions. The ambush attack did not net more than a handful of gold bars from margin calls, themselves mere paper entries. The consequence is vast and has brought huge changes to the entire monetary stage. A tremendous increase has been seen in gold demand, from Turkey to India to Mexico to the United States to Japan to China to Thailand to Singapore. The corrupt bankers avoided a default, but they assured a more unavoidable future default by lighting a fire of global gold demand, on the physical side with bars, coins, and jewelry. Gold contract defaults will spring up everywhere, lately even for the Chairman of the CME Group on his own contracts held. They exposed the paper gold sham based upon gold futures contracts. The most powerful consequence is that the banker syndicate has revealed the absent link between price discovery and gold delivery. They have therefore ruined the essence of the COMEX & LBMA gold market, rendering it a perverse playground for criminals. It has no gold in inventory sufficient to handle the delivery demands. The COMEX will soon be totally ignored, its price considered a meaningless sideshow that only lacks criminal prosecution.
QUICK CONCLUSION
Miscellaneous other deep dark deceptions have occurred, far too numerous to delineate in complete fashion. A general effect must be cited, since so pervasive and insidious. Gold and USTBonds aint a market. Their so-called official trading arenas are empty rooms with USGovt and USFed devices filling the empty space, creating a phony price.The false Gold price has no real supply. The false Bond price has no real demand. The claimed price is not where Supply meets Demand to clear the table on the market. Therefore the claimed price is not the real price. Neither Gold more the USTBonds are a real market. Witness pure heresy.
THE HAT TRICK LETTER PROFITS IN THE CURRENT CRISIS.
From subscribers and readers:At least 30 recently on correct forecasts regarding the bailout parade, numerous nationalization deals such as for Fannie Mae and the grand Mortgage Rescue."I have been a Hat Trick subscriber since 2005. I consider your publication beyond excellent. It is indispensable to understanding the mega-trends of the past such as the housing bust, bank insolvency, monstrous US Government $trillion debt, the Fed's QE to infinity with no feasible exit strategy, and more. Essentially, your analysis exposes and documents the massive corruption ruining the future of young and old alike in America. A simple thank you is really not sufficient to express my deep appreciation of the time and effort you put into the Hat Trick Letters."(ElaineW in California)
"A Paradigm change is occurring for sure. Your reports and analysis are historic documents, allowing future generations to have an accurate account of what and why things went wrong so badly. There is no other written account that strings things along on the timeline, as your writings do. I share them with a handful of incredibly influential people whose decisions are greatly impacted by having the information in the Jackass format. The system is coming apart on such a mega scale that it is difficult to wrap one's head around where all this will end. But then, the universe strives for equilibrium and all will eventually balance out."(The Voice, a European gold trader source)
"It has been my hope that the financial collapse would occur within a slower time frame, like a year from now. I have followed your articles on various sites for a while, and have to say that you are very perceptive and accurate as well as analytical. You have been more accurate, detailed and thorough than others, and your Big Picture analysis is usually spot on. I have noticed that it often becomes public news 3 to 6 months later. It is not easy connecting all the dots and understanding the implications one event has on everything else, then interweaving all the threads to grasp that big picture. I don't usually spend the money for a subscription, but I feel your information is vital to know."(KathyN from Arizona)
Jim Willie CB is a statistical analyst in marketing research and retail forecasting. He holds a PhD in Statistics. His career has stretched over 25 years. He aspires to thrive in the financial editor world, unencumbered by the limitations of economic credentials. Visit his free website to find articles from topflight authors at www.GoldenJackass.com . For personal questions about subscriptions, contact him at JimWillieCB@aol.com
Financial Treachery & Harsh Consequences
GEAB N°74 Is Available! Global Systemic Crisis:
Last minute comments:
After the deadline for this GEAB number last Saturday evening, our team has closely watched the unusual coincidence of all the market indicators' collapsing: European, American and Asian stock exchanges, raw materials… and even and especially gold. Unfortunately we don't have time to expand on this event but, anyway, we interpret it in line with everything we have written in this number. But where this number describes things still rather calmly, as still to come, we wonder whether these premises are not those of the collapse which we anticipated for the March to June 2013 period. Western austerity (American sequestration + the treatment of European austerity) which Chinese growth has ended up feeling with these poor numbers announced today has caused price collapse in raw materials and stock exchanges which involves a fall in banking assets, obliging the banks to close out their positions urgently to gain liquidity. There is a clearance sale of paper gold which is leading the dance. The phenomenon is all the more remarkable as, if it were a normal speculative process, falls in one market would benefit another. We are probably at the beginning of a panic in which all speculative positions are sold off. If a 2008 style collapse is really taking place, the question is: where will the trillions which were caught up in-extremis in the financial system in 2009 come from?
Depending on the method of political anticipation, dating the cracks is carried out by identifying the high-risk periods during which the slightest spark lights the powder-keg. The current period is a typical example where an impressive number of explosive factors are combining: new financial bubbles inflated by massive injections of public money, worldwide geopolitical instability, currency wars, political the beginning of the political war against "financial terrorism", political crisis in Europe, massive unemployment and a damaged real economy, not counting of course public debt which is at its highest. It's such a concurrence of factors that it raises the miracle that this situation carries on. We analyzed the reasons in the GEAB n°71, in particular the shared interest in keeping the United States on artificial respiration and the central banks' disproportionate generosity. This last aspect has moved up a level with the Bank of Japan's policy which this time, far from reducing the level of risk, on the contrary has amplified it as we explain below, and is an example of the headlong flight which serves as current policy for certain countries lacking solutions and which the GEAB readers know well: Japan, the United Kingdom and the United States.
Our team thus estimates that a new step in the system's instability has been taken. Moreover, several discordant notes have just pierced the deafening silence jealously imposed by the financial world on the true situation, like the sudden "surprise" damage to all the supposed macro-economic indicators meant to reflect the "recovery": United States (1), Canadian (2) and Australian employment (3), confidence numbers (4), computer (5) and mobile 'phone sales (6), Chinese exports (7), BRICS countries' car sales (8), etc.
US total retail gasoline sales. Source : EIA
The Cypriot crisis is also a good refresher course. The turmoil generated by this tiny island, even though outside the dollar zone's world financial core, gives a foretaste of what will happen when a central knot of the system is let go. Because whilst Europe is laboriously bandaging its wounds gradually, on the contrary the "US zone" is increasingly miring itself in the processes responsible for the crisis, as if choosing a higher diving board above a swimming pool without water would make the shock less painful.
In this issue, we present the first two of the six points in the full analysis:
THE CRISIS SQUARED OR THE HEADLONG « POLITICAL » FLIGHT
"Building a new crisis on the existing one" seems to be the objective of politicians in Japan, the United Kingdom and the United States. Like these financial products which exploded in mid-air in 2008, "CDO squared" (9) are complex structures on complex structures (CDOs on CDOs) aiming to dilute the risk but actually exacerbating it, the headlong flight lead in these countries builds a kind of "crisis squared", a new crisis on the 2008 crisis. They claim to be putting out the fire by watering it, without realizing that it's not water but petrol which they are using.
So, from the Bank of Japan which reveals its Japanese debt repurchase plan (10) making Ben Bernanke and his QE3 green with envy. If it were not that Japan has had a painful past on this issue, we would say that the atomic weapon has been armed and that the risks of a slip are immense, with consequences at the same level as the fire power. In fact, until now the enormous Japanese debt was supportable because of very low Treasury bond interest rates, about 0.5%. Investors, mainly national institutions, accepted these poor returns because inflation was negative, about -0.5%, thus giving a real return of around 1%. But tensions are already appearing, such as the largest Japanese and global pension funds threatening to exit Japanese bonds (11).
5 year Japanese Governement Bonds. Source : ZeroHedge / Bloomberg
However with a 2% inflation target and a central bank determined to carry it out by doubling the currency in circulation (12) (!), Treasury bond interest rates will have to rise to around 3% to give investors a real return of 1%. On a debt exceeding 200% of GDP, this rate is insupportable since debt servicing already accounts for 40% of government receipts at current rates (13). The market is well aware of it as the four temporary trading halts in the Japanese Treasury bond market in four days due to its volatility show (14). It's a clear warning the letting loose of uncontrolled risk. Japan is thus in an impasse: continuing this massive liquidity injection to create inflation and head either into a debt default because of insupportable interest rates (with dramatic consequences on businesses and pension funds), or into an uncontrollable spiral where the BoJ is the only player in the treasury bond market when everyone else in selling; or to stop the plan in progress and let the economy wither away. Without counting that, patriotism or not, the temptation must be strong for Japanese businesses to invest abroad to protect themselves from the yen's freefall which is now flirting with an exchange rate of around 100 yen to the dollar.
BUBBLES ON ALL FLOORS
But, to a smaller extent, the same strategy is being tested by the United States since the beginning of the crisis. This forced illusion of a real economy in good health feeds bubbles almost everywhere. Whether it be the student loan bubble, automobile loans, the treasury bond bubble of course, or a new subprime type bubble created at Obama's request who is now inciting the banks to lend to the least safe households (15) in order to re-launch real estate, all these areas of the economy only hold up thanks to the Fed and are disconnected from reality as we saw in the GEAB n°73. But, by paraphrasing a line from a film (16), it's not the bubble which is significant, it's the landing.
US production and consumption – In red, US production of « globally marketable output » (manufactured goods in general with few services). In light blue, US private consumption; in dark blue government consumption. In 2011 $ trillions. Source : Tullet Prebon
However this problem will not make do with staying within US borders. In fact it has also contributed to nourish an "emerging nation bubble" (17) (see the chart below) which has missed its goal and is beginning to deflate (18), preventing any hope that the worldwide economy would be actually pulled along by the emerging countries in 2013. Canada itself is really ailing with an enormous real estate bubble (see GEAB n°69), disappointing employment statistics, etc.
Chinese and Brazilian real estate – Real estate prices : above chart : Shanghai, below chart : Sao Paulo Source : Global Property Guide
But actually the dollar is the ultimate bubble. All the United States' supremacy rests on dollar domination, and the whole objective of their foreign policy is to preserve this domination at all costs. However, they don't have this option anymore. The dollar role is fading away on all sides, with sudden swap agreements or ex-dollar foreign trade (19) ; abrupt loss of confidence, in the United States included, where the Fed's inflationary policy has led several States to authorize gold as a currency or at least to consider it (20) ; China's progressive dumping of US treasury bonds (21) (would be this only be because it's amazing trade surpluses have disappeared), etc. The Bitcoin (22) bubble again illustrates this distrust in the dollar as we anticipated in the GEAB n°71: "The experiment with alternative currencies […] is on the agenda in 2013. […] Two different rationales push towards these experiments. [The first is] the loss of confidence in the official currency".
A dollar zone suffering the death of a thousand cuts and a Fed which, on the contrary, is printing increasing amounts of currency leading to a dollar oversupply whose consequence will be the bursting of the bubble dollar. In comparison, the other economies don't depend on their currency's international status and, on the contrary, this can only take on increasing importance if it's internationalized.
In order to prolong the dollar's supremacy, in addition to the increasingly less effective usual means using oil and their military power, the United States seeks to create free exchange zones left and right. This free exchange zone topic is truly on the 2013 agenda as we wrote in the GEAB n°71. However, we anticipated that the majority would fail or remain empty shells allowing the disguise of a new protectionism: this is exactly what is happening with the negotiations between Europe and the United States which is crystallizing grassroots discontent (23) and won't succeed quite simply because Europeans don't want American goods (and vice-versa).
Only rare negotiations for free exchange zones can still hope to come good like those between Europe and India because they are two areas warranted to get closer to play a greater international role, but here still the pill is hard to swallow because the Indians are imposing constraints which are increasingly difficult to accept (24). The objective of the world's major regions is, for the moment, to reinforce themselves and not open up. Not being able to go against this basic trend of regional rationales, the consequence of these free trade treaties numerous is to accentuate the currency war, the most convenient means of continuing a form of protectionism when tariff barriers are prohibited. In short, dollar safety won't come from free trade treaties.
Notes:
1 Read: Quit Blaming employment Europe for Bad Jobs News in the U.S., Bloomberg (09/04/2013)
2 Source : CBC News, 05/04/2013
3 Source : The Telegraph, 11/04/2013
4 See, amongst others, Dallas News, 09/04/2013
5 Source : Le Monde, 12/04/2013
6 Source : L'Expansion, 13/02/2013
7 Source : The Wall Street Journal, 10/04/2013
8 Source : Le Monde, 11/04/2013
9 For a simple explanation of the principle of CDOs and CDOs squared, see the video on Information Processing (17/10/2008). Also see Wikipédia.
10 Source : The Guardian, 08/04/2013
11 Source : Bloomberg, 03/02/2013
12 Source : The Guardian, 04/04/2013
13 Source : Wikipédia
14 Source : ZeroHedge, 10/04/2013
15 Source : Washington Post, 02/04/2013
16 La Haine by Mathieu Kassovitz.
17 For example, see The bubble bubble
18 Source : Caixin (03/04/2013), excellent article worth reading.
19 The latest are swap agreements between China and Australia and China and Brazil. Sources : The Australian (30/03/2013) and BBC News (27/03/2013).
20 Source : Bloomberg, 08/04/2013
21 Source : ZeroHedge, 11/04/2013
22 For example, see Le Monde (09/04/2013) and Le Monde (12/04/2013)
23 Source : Der Spiegel, 26/02/2013
24 Source : DNA, 13/04/2013
The war has been declared between the economic-political world and financialbanking interests
Besides the countries that are trying to get their gold back from New York and London, wealthy individuals are beginning to want their gold. I have a feeling they are going to want it even more now.
On King World News, Jim Sinclair told Eric King yesterday, a wealthy and affluent person Jim Sinclair knows, wanted their allocated gold, they had a Switzerland Bank storing for them out. The bank has outright refused to give them the gold, saying due to "Anti -Terrorism and Anti -money laundering laws."
That is the excuse banks will give people no doubt in the future if they want their money or anything else stored. I believe this will eventually get to safety deposit boxes. We already know bank accounts are at risk now.
How many very wealthy people have gold stored in banks that is suppose to be allocated for them and they have been paying storage charges on? How many are going to try and get their gold out and be told "No, sorry." So… the banks will have the money for the gold, the gold and charge the customer storage fees every month for that "gold" but will never be able to see it or touch it?
The banks are out of Gold!
I believe things are going to get very interesting now.
The interview of Sinclair is at KWN.
People need to see the writing on the wall. Anything you have in the bank, the bank can and will refuse you, when you want it back. Get out of the banking system! They are more desperate and what is yours, is theirs!
I have not been able to find if Texas is able to get their gold from the N.Y. Fed, since it was announced they wanted it back in March.
We know that Germany is not even able to get 70 tons of the 300 + tons of their "allocated" gold from the Fed for 7 years.
Chavez of Venezuela was very smart asking for his gold back a couple of years ago.
Remember those who delay will lose out, those who act first win as Chavez did. He will probably be the first and last of someone who won in getting their gold from the Fed or a Central bank.
I will say… if you have anything in a safety deposit box at a bank, get it out.
The government has now through "anti terrorism laws" can confiscate any safety deposit boxes without warrants or real reason and they can keep all items in it, including gold and silver and guns.
According to in-house memos now circulating, the DHS has issued orders to banks across America which announce to them that "under the Patriot Act" the DHS has the absolute right to seize, without any warrant whatsoever, any and all customer bank accounts, to make "periodic and unannounced" visits to any bank to open and inspect the contents of "selected safe deposit boxes."
Further, the DHS "shall, at the discretion of the agent supervising the search, remove, photograph or seize as evidence" any of the following items "bar gold, gold coins, firearms of any kind unless manufactured prior to 1878, documents such as passports or foreign bank account records, pornography or any material that, in the opinion of the agent, shall be deemed of to be of a contraband nature."


I will say again: NOTHING IN THE BANKS IS YOURS! NOTHING IS SAFE IN A BANK. You will be keeping anything there at your own Risk!
Jim Sinclair on King World News "Switzerland Bank Refused A Wealthy Person their Allocated Gold Stored" People's stored Gold at Banks not there.
David Morgan, Silver-Investor.com spoke to me this morning about the Federal Reserve Governor Jeremy Stein, coming right out and saying the U.S. will do as Cyprus if needed and take the creditors (depositors) money so a bank will not fail. Your money in the banks is not yours it is the bank's money and when you signed the signature card, you acknowledge that.
The blue print has been established.
Great last minute interview with David and he provides Very Important information. He points out Everyone needs to protect themselves, immediately. The Physical market is tight now and getting tighter even in the U.S., get gold and silver right now while you can.
He says the U.S. citizens need to Wake Up and get smart and informed NOW!
UPDATE – 10:15 pm - CONFIRMS everything Jim has said.. Zerohedge about gold and getting hard to get physical.
My interview of David Morgan Silver-Investor – Confirmed U.S. banks will go Cyprus. Paper prices separating from physical. Get metals while you can!
by Dmitry Orlov
An interesting thing happened in Boston. Not the explosions that killed several people and maimed many more—such gruesome events happen with some regularity in more and more parts of the world—but what happened afterwards. Under the thinnest of pretenses, Boston was placed under martial law, with heavily armed troops patrolling the streets, pointing machine guns at civilians who dared so much as to look out their windows.
A large part of the city was placed under lockdown, supposedly because a single 19-year-old, on foot, was on the loose. (There may be dozens of armed teenagers on the loose in Boston on any given Friday.) The official story makes little sense. Do you think the Tsarnaev brothers did it? I doubt it. They seem like patsies at most. They seem to have been picked because they are Chechen, and tying in Chechnya, and Russia, and radical Islam, makes it a better story. As with 9/11, the official version has many holes in it, there is contradictory evidence, but the officials and the official media steadfastly ignore it, ready to label anyone who calls the official story into question a "conspiracy theorist."
I am not an investigator or an intelligence analyst; I am merely expressing an opinion based on my intuition. While all of this was unfolding, I was making use of the good weather to paint a boat (the fancy two-part polyurethane paint doesn't cure well if it's humid or under 50°F, and it was finally warm and dry enough to apply it) and I had the boat's stereo blasting NPR as I worked. I wasn't even listening all that carefully because I had to concentrate on avoiding drips and smudges. But after a while I had a sudden realization about the voices on the radio: They Are All Lying! There is a certain intonation that is hard to suppress, and it indicates that someone is trying very hard to sound like they believe what they are saying. I heard that intonation over and over again. Now, granted, some of them didn't even know for sure that they were lying, but to me it appeared that somebody was hastily concocting a story for public consumption. Not being an intelligence analyst or an investigator, I asked Mike Ruppert, who is both of these things, and he wrote back "Of course the bombing was a lie and a set-up. I don't chase the details anymore though. Waste of energy." And I have to agree with him; I have neither the time nor the interest. But somebody else has chased down a few of the details, and they don't look good for the official story. See for yourself: here, here and here.
If this is another false flag operation by the special forces, what, you might reasonably ask, is the motive? From whose perspective, you might wonder, was it a good idea to stage a horrific mock terrorist incident right in the cradle of the American Revolution, and specifically on Patriot's Day, which is a state holiday commemorating the first battle of the Revolutionary War? And from whose perspective was it a good idea to then stage a military occupation of Boston? The symbolism is unmistakeable: were these the first shots fired in the Counterrevolutionary War? Obviously, the people behind it are the ultimate scum of the earth. But let me try to propose a few ideas for their rationale.
The US can no longer afford to fight foreign wars. It just doesn't have the money. The twin fiascos in Iraq (where only something like 50 people got killed in terrorist attacks on that same day) and Afghanistan (similar story) have cost the country a prodigious amount of money, most of it borrowed, with precious little peace and stability to show for it, and now there are simply no resources for further overseas military adventures. But the US military is a beast that cannot be tamed by anyone—not the President or the Congress—because it is simply too profitable. And so, of necessity, the new venue for military operations will have to be the US itself. There are some inconvenient laws currently on the books that make this difficult but, as the experiment in Boston has shown, they can now be safely ignored.
Also, we should expect there to be plenty of good excuses for deploying troops on the streets of American cities. There are some nasty financial and commercial disruptions on the horizon, which will result in serious domestic mayhem. For many years now, more and more as time went on, the US has been critically dependent on its ability to print and export US dollars. The dollar is the country's #1 export. But recently more and more countries have started turning away from the once popular US dollar and entering into bilateral trade agreements based on their own currencies or gold, and this shift is now unmistakeable and quickly running its course. As this happens, the US dollar loses its reserve currency status, and countries shift their reserves out of the dollar and into gold.
A recent desperate attempt to drive down the price of gold and silver by manipulating the futures markets, and by doing so to prop up the value of the US dollar along with other paper currencies, backfired in a grand fashion, resulting in people across the world snapping up physical gold and silver at what they consider bargain prices, to a point where now many metal sellers are simply out of metal, and buyers face long waits for delivery. Interestingly, there is as yet no mechanism for bidding up the price of physical metal separately from the futures market, which trades something like 100 phantom ounces for each real ounce of metal. A daily auction for all the physical gold and silver available for immediate delivery would be far more honest than this corrupt "mark to paper" scheme.
Given that more and more people are no longer content with holding mere paper and want to take delivery of their metal, the phantom, paper ounces are not long for this world. When enough people demand to take delivery of them, the futures market will implode, the physical gold price will explode, and the dollar will sink. Normally governments maintain a gold reserve to back the value of their currency, but the US seems to have quietly spent most of its gold already. Nobody knows how little of it is left. And so once the ability to suppress the price of gold by manipulating the futures market is lost, the dollar will go into free-fall. Two immediate effects of the loss of purchasing power of the dollar will be:
1. Loss of control over interest rates, causing payments on US government debt to swallow the entire budget, in turn causing much of the government to shut down (financial collapse triggering political collapse)
2. Loss of access to imports, such as well over half of the oil the country burns, shutting down much of the consumer economy (financial collapse triggering commercial collapse)
The net result will be mayhem, troops on the streets, curfews, checkpoints and travel restrictions. Americans have no recent experience of living under military occupation (the experience of the South in the 1860s is not recent enough to qualify). But now they are going to get a taste of it—at their own hands.
If you are finding this difficult to absorb, rest assured that your reaction is perfectly normal. Few people find it easy to accept the fact that what was once "their" country is now an empty husk run by thugs and manipulated for personal gain by shadowy puppet-masters who are the ultimate scum of the earth. These are the people who will now govern you, inasmuch as you allow yourself to be governed at all. Saying good-bye to financial security and a comfortable lifestyle is hard enough; saying good-bye to your national identity is even harder. The grieving process is much longer than grieving for a few dead and wounded, regrettable though these casualties are. At the end of this grieving process you come out with your public persona diminished: not a citizen or a patriot but at best a compatriot and at worst someone from a place you don't wish to return to, hear about or discuss.
And now it's time for this week's highly relevant excerpt from The Five Stages of Collapse which, last I heard, is coming off the press tomorrow.
Financial and commercial collapses are already potentially lethal. People lose their bearings and their sense of purpose, or decide to take advantage of those in distress, or fail simply through an inability to adapt to radically altered circumstances, and when that happens people get hurt. Financial and commercial collapses tend to be hard on those who failed to prepare, by putting aside objects that hold their value when the national currency hyperinflates and banks close and by stockpiling the necessary supplies to tide them over during the uncertain transition period, when the old ways of doing things no longer work but the new ones have not yet evolved. Both of these causes of potentially lethal circumstances can be avoided: first, by choosing the right kind of community; second, by laying in supplies or securing independent access to food, water and energy; and third, by generally finding a way to bide your time and ignore the world at large until times get better.
Political collapse is a different animal altogether, because it makes the world at large difficult to ignore. The potential for chaos is still there, but so is the potential for organized action of a very damaging sort, because the ruling class and the classes that serve them (the police, the military, the bureaucrats) generally refuse to go softly into the night and allow the people to self-organize, experiment and come together as autonomous new groups adapted to the new environment in their composition and patterns of self-governance. Instead, they are likely to spontaneously hatch a harebrained new plan: an initiative to restore national unity, in the sense of restoring the status quo ante, at least with regard to preserving their own power and privilege, at others' expense. In a situation where every person and every neighborhood should be experimenting on their own to find out what works and what doesn't, the politicians and the officials are apt to introduce new draconian crime-fighting measures, curfews and detentions, allowing only certain activities—ones that benefit them—while mercilessly putting down any sign of insubordination. To deflect the blame for their failure, the ruling elite usually also does its best to find an internal or external enemy. Those who are the weakest and the least politically connected—the poor, the minorities and the immigrants—are accused of dragging everyone down and singled out for the harshest treatment. This is conducive to creating a climate of fear and suppressing free speech. But nothing causes people to band together like an external threat, and, for the sake of preserving national unity, a failing nation-state often looks for an external enemy to attack, preferably a weak, defenseless one, so that it poses no risk of reprisal. Putting the nation on a war footing makes it possible for the government to commandeer resources and reallocate them to the benefit of the ruling class, further restrict movements and activities, round up troublesome youths and ship them off to battle and lock up undesirables.
Financial and commercial collapse creates an opening for those inclined toward the most miserable despotism. Once a despotic regime is established, the weak, demoralized, disoriented population almost inevitably finds itself incapable of rising in opposition to it, and the new despotism may become entrenched and quite durable, lasting for an extended period of time, during which the country is hollowed out and traumatized before collapsing through internecine strife or a battle of succession, or through increasing weakness that causes it to succumb to foreign occupation. The spectrum of possible responses to financial and commercial collapse stretches from despotism to chaos. There is a sweet spot of autonomous, anarchic social cooperation, with many small skirmishes and stand-offs but well short of all-out armed conflict.
The Rationale behind the Boston Psy-ops
by James Howard Kunstler
If the FBI can track down two homicidal Chechen nobodies inside of forty-eight hours of their Boston bombing caper, you kind of wonder how come the Bureau can't detect the odor of racketeering, insider trading, and wire fraud in this month's orchestrated smackdown of the gold futures markets, including the parts played by the Federal reserve, one or more too-big-to-fail banks, self-interested big money players such as George Soros, slumbering regulators at the Commodities Futures Trading Commission, and tractable editors at The Wall Street Journal and The New York Times.
Of course, US Attorney General Eric Holder, who oversees the FBI, has done a fair imitation of a Brooks Brothers store window mannequin for four years, but surely somewhere in the trackless labyrinth of American law enforcement there exists some dogged rogue investigator with a filament of nagging curiosity who might piece together the clunky train of events that may amount to the financial crime of the century. For instance, it can't be so difficult to determine who was behind the several hundred ton mass dump of paper gold contracts a week or so ago. There must be a pretty simple record of the transaction, retrievable with a warrant or a subpoena. Whatever entity did it — still ostensibly unknown — knowingly generated losses in the neighborhood of a billion dollars for itself. Was this just the cost of doing business? Or a favor owed, say, from a bank to its godfathers at the Fed, carried out to make the dollar look relatively a lot less unsound than it really is? Or a ruse to allow the custodians of bullion in US depositories re-acquire at bargain prices gold that has been stealthily hypothicated into oblivion? Or just to divert attention from their inability to make good on contracted deliveries of actual physical gold.
No official has yet answered why the Federal Reserve Bank of New York told the German government a couple of months ago that it would take seven years to return that country's gold held in safekeeping (across the ocean from the Russians) since the Cold War. The NY Fed must have a vessel under contract that makes the proverbial slow boat to China look like an ICBM.
Doesn't anybody want some answers to these questions, including how come the two aforementioned major newspapers published front-page stories calculated to justify, if not provoke, the most extreme negative sentiment in the precious metals markets, seemingly coordinated with Goldman Sachs advisories to short those markets? And what about a glance at the trading records to see who executed massive naked shorts? Wouldn't it be interesting if they were the same parties as the dumpers? And why? — other than a strenuous intervention in the markets to make those markets look unreliable? Does anyone even remember that the purpose of financial exchanges is to verify and authenticate the clearing of trades to provide confidence that markets are honest so that real business can be conducted?
What the interveners have accomplished is only to prove that the gold and silver derivatives markets are unreliable. They may have smashed the trade in that kind of paper, but only achieved a firmer divergence between the derivatives markets and the bullion markets where, for example, the premiums on delivery of silver ounces makes the price exactly equal to the pre-smackdown price. Anyway, nobody believes that the London Bullion Market Association (LBMA) or that the New York Commodity Exchange (COMEX) can deliver. Meanwhile, runs on bullion contracts were starting to uncover a contagion of swindling in precious metals obligations that pervaded the western banking system. It was not a coincidence that the smackdown happened three weeks after the Dutch bank ABN Amro notified clients that it would only satisfy demands for redemptions of gold held in its custody with equivalent cash payments. "No gold for you today!" A fair inference based on subsequent events would be that all the custodians of physical gold bullion have misreported their holdings. And now that actions by the European Union and its agents have ventured into the dangerous territory of plain confiscation, there is not a whole lot of faith throughout the western world by people who are paying attention that an account of any kind in any financial institution is safe. There is good reason to fear runs on everything.
Because the smackdown organizers pulled off their operation in a panic, they probably ignored the potential further negative consequences of their stratagem, namely a worsening loss of confidence in banks generally and in the trade of abstract financial instruments in particular, including currencies. Nervous public officials may be brooding on imminent "bail-ins" and currency controls, but the public may be ready to bail out of the prevailing banking model into things that have been considered more money than "money" for a few thousand years, namely real gold and silver. The basic fact remains: there isn't enough to go around.
For a complete list of books by James Howard Kunstler and purchase links, Click Here .
Jim Willie, The Golden Jackass and writer of the Hat Trick letter is allowing me to publish a little of his April subscriber Hat Trick Letter.
Jim emailed me this information today along with an article (and link) about physical gold and silver being bought out and major dealers do not have any for sale now.
Here are a few paragraphs (with his permission of publishing here) from Jim's April Hat Trick Letter for subscribers only:
Jim Willie – Golden Jackass Information from his April Hat Trick Letter
In this MUST LISTEN interview, the Golden Jackass Jim Willie states that in the wake of the impending LBMA default that Andrew Maguire warned was in progress Monday, physical gold orders in size are being filled at the $2,000/oz price level, while the COMEX futures prices crashes and burns!
Is the long-awaited final disconnect between paper and physical gold and silver occurring before our eyes? The fact that US wholesalers are SOLD OUT of physical silver as of Monday evening seems to substantiate this fact.
Jim Willie interview with Sherrie on Sherrie Questioning All!


Jim Willie interview on YouTube
JIM WILLIE: REAL PHYSICAL PRICE OF GOLD SOARS TO $2,000/OZ AS COMEX BURNS!