Archive for the 'banks' tag
"Top Us Foreclosure Law Firm Threw Halloween Party Where Staff Dressed As Homeless, Foreclosed-Upon Americans"
Update below
A class act all the way
-Homer J Simpson

Via BoingBoing:
From a NYT opinion piece by Joe Nocera, "What the Costumes Reveal"—
On Friday, the law firm of Steven J. Baum threw a Halloween party. The firm, which is located near Buffalo, is what is commonly referred to as a "foreclosure mill" firm, meaning it represents banks and mortgage servicers as they attempt to foreclose on homeowners and evict them from their homes. Steven J. Baum is, in fact, the largest such firm in New York; it represents virtually all the giant mortgage lenders, including Citigroup, JPMorgan Chase, Bank of America and Wells Fargo . . . MORE
Here's some general information for the law firm of Steven J. Baum:
Phone: 716-204-2400
Fax: 716-204-4600
716-204-2496
Regular Mail
P.O. Box 1291
Buffalo, NY 14240-1291
Overnight Mail
220 Northpointe Pkwy, Suite G
Amherst, NY 14228
Long Island Address
900 Merchants Concourse
Suite 412
Westbury, NY 11590
* This is not a mailing address *
The firm's principal's names, home addresses, phone numbers etc. are also easy enough to find.
UPDATE:
From the Buffalo News (a Berkshire Hathaway company):
Read the apology, these guys are scum.
UPDATED: "Top US foreclosure law firm threw Halloween party where staff dressed as homeless, foreclosed-upon Americans"
Submitted by Brandon Smith from Alt Market
Want To Defeat The Banks? Stop Participating In The System!
In Franz Kafka's most popular work "The Trial", his characters relate a short parable which has fascinated and confused curious readers for generations. That parable is entitled "Before The Law", and its message has been interpreted, reinterpreted, and agonized over by the labyrinthine contrariness of academia, producing numerous conflicting views:
Existentialists, of course, automatically jump to the conclusion that "Before The Law" is a message of the absurd nature of man's search for reason and structure in a universe of random coincidence. That "the law", as it were, is a superficial concept that humanity uses to make life more bearable. That we seek to create artificial social constructs in order to keep ourselves afloat in a sea of chaos. This is partly true. The law is, indeed, an abstraction conjured by men. However, the source of the most fundamental laws, being inherent conscience, is far from abstract. In fact, it is one of the few aspects of our existence that is undeniably tangible and universal. It is proof that all is NOT random, and that there is a meaning and a purpose to what we do here and now.
I see "The Trial" and "Before The Law" not as treatise on the futility of man's search for justice, but as a warning on the foolishness of man's dependency on systems not rooted in conscience. That is to say, we have a tendency to linger about idly while others make our decisions for us. We expect the system we live in to provide answers, to provide nurturance, to provide fairness, and to provide change where necessary. This expectation is a dangerous one.
Most social and political systems today are designed around collectivist methodologies. Their primary tool is centralization of power, and the removal of choice from the public consciousness. We are made to believe that the establishment is necessary for our survival, and that to abandon it would mean certain destruction. We are taught that the individual is subservient and inconsequential in the face of the state. This is simply not so. Like the traveler in "Before The Law", we have been defeated by our own expectations of how the law (or justice) works. We sit and wait for permission, when we should be charging through the gates and taking what is rightfully ours.
Even amidst recent and increasingly prevalent protest actions on the part of Occupy Wall Street groups, there are still some within these movements who believe the answer to fighting back against the corruption of banking cartels and puppet politicians is to hand even MORE power over to the state, and to collectivize our culture still further. The ignorance of this mentality is no less than astonishing.
The only practical strategy for combating the tyranny of centralized systems has been and always will be decentralization. Individuals must stop relying on the rules of a rigged game to see them through to the truth. This means that while mass protests are certainly a powerful tactic for voicing concerns on an international stage, they accomplish little to nothing in the way of meaningful change in the long run unless they are backed by individual actions to break away from dependency upon a poisoned political and economic framework.
The common assumption amongst Americans is that nothing can be done without mass action resulting in "compromise" from leadership. That the healing of our cultural dynamic is a "top down" process. That one person alone has little at his disposal for bettering the world. In fact, it is always self aware and self sustaining individuals who build better societies, not angry mobs without understanding or direction. Individuals blaze the path that the rest of the world eventually follows, and they do this through one very simple and effective act; walking away.
By walking away from the corrupt system, and building our own, we make the establishment obsolete. This philosophy could be summed up as follows:
Provide for yourself and others those necessities which the corrupt system cannot or will not, and the masses (even if they are unaware) will naturally gravitate towards this new and better way. Offer freedom where there was once restriction, and you put the controlling establishment on guard. Eventually, they will either have to conform to you, attack you, or fade away completely. In each case, you win. Even in the event of attack, the system is forced to expose its tyranny and its true colors openly, making your cause stronger.
The obvious question now is; how can each one of us use this strategy in our daily lives? Here are just a few easy applications:
1) Focus On The Federal Reserve
If you as an activist or the movement you support are not fully aware of the private Federal Reserve Bank and its primary role in the destruction of our economy, our currency, and our political dynamic, then your protests are a waste of time, and your movement will end in failure. Uneducated mass actions are easily manipulated, and can even end up serving the purposes of those oligarchs they seek to dethrone. G. Edward Griffin's full analysis on the history of the Federal Reserve "The Creature From Jekyll Island" and similar materials should be handed to every OWS protester before it is too late.
2) Take Back Your Savings
Do you have a bank account with one of the so called "too big to fails"? Is the culmination of your savings currently in the hands of financial monstrosities like Bank of America, JP Morgan Chase, Citigroup, etc? Well, take your money back! This has been done by a few protestors and the response from banks has been outlandishly oppressive, including new guidelines attempting to obstruct customer access to savings, and even calling the police! This tells me that they are afraid. Afraid of Americans catching wind of the idea that the money they place in the accounts of bad banks is still theirs to do with as they will. If you don't like how these institutions operate, don't let them have your money. It's as simple as that. Not only is this an act of defiance that truly hurts the banking system, it also protects your hard earned wealth (at least initially) from the inevitable collapse of these fiscally insolvent blood leaching leviathans (watch Bank of America closely, folks!).
3) Use Alternative Currencies
After you take your savings away from the banks, you still aren't quite free of their influence. You are now holding fiat dollars, which the Federal Reserve, the foundation of all banking fraud, is currently devaluing. The idea of walking away from the dollar sounds ridiculous or even frightening to those trapped in the centralization mindset, but it is a highly effective method for combating the system itself. The dollar is a sham, and has been since its future was handed over to the Fed in 1913. Alternatives exist, and they must be utilized. Communities across the country use various scripts as a means to diminish reliance on the dollar, but ultimately, the best currencies are those that cannot be created out of thin air unhindered. This means gold and silver.
Central banking proponents have been railing against even the concept of a return to gold and silver currencies for years, and the Department Of Justice has labeled the use of such alternatives in place of dollars as a form of "domestic terrorism". This should tell you, quite clearly, that they are deathly afraid of activists organizing to drop the dollar to pursue metals. If the system is willing to use the law as a weapon to keep us from having sound money, then we should be rubbing their nose in it daily by trading without dollars. They should be forced to react, and in the process, forced to expose their true intentions for our economic futures.
4) Build Barter Networks
If a bunch of people can band together to huddle in parks with signs for weeks in cities across the nation, then they can band together to trade goods and services outside the establishment system as well. Barter networks grow spontaneously out of economic collapse regardless of what any group decides to do, but generally, they appear AFTER the worst has happened. Wouldn't it be wiser to organize such markets now, before a full collapse takes place? By preempting disaster with a backup or failsafe free market barter economy in each town and city, we insulate ourselves from the effects of the crisis, and, we cut loose from our dependency on the controlled mainstream economy. Localized trade makes it possible to walk away from corporate chains and maintain the circulation of wealth within a community, while countering the increasingly higher taxes caused by austerity and inflation that we are likely to see in this country very soon. It really is a no-brainer.
5) Grow A Garden
I don't know how to say this nicely; don't be a jackass, learn to grow your own food. Don't expect that our economy will continue to sustain you. Actually, you should have every expectation that it won't! If every Wall Street or Fed protester had their own garden patch and some stored goods, we would all be much safer. Food dependence is the worst kind. It has been used by governments and despots for centuries to cull the masses and dissuade dissent.
Sharecropping should be common in every community. Neighborhood gardens should be standard. Every household should have a year's worth of food. Period.
Imagine that you lose your job and every cent you have tomorrow. Imagine that mom and dad are broke and have no money to lend you. Imagine that food stamps are a thing of the past because the national debt has become so exponential that entitlement programs have been erased. Now, how do you live from day to day? Where do you get the nutrition required for you to continue holding up that sign or shouting that slogan? Think about it…
6) Start A Micro-Industry
If the U.S. economy is ever going to get on its feet again, it will be because average Americans bring it back through local industry. This means ending our community addictions to corporately produced goods and returning to specialized trade skills. It means coalitions of local farmers, craftsmen, and micro-industries providing goods and services with a city or county based market focus. Large manufacturers and business chains relying on the model of globalization will have absolutely no ability to rebuild mainstreet commerce, even if they wanted to, because their methods depend upon constant outsourcing and downsizing for survival. Private tradesmen will be the only people capable of filling the dark void these corporations leave behind.
7) Start An Activist Group
The establishment HATES when you do this. The spontaneous organizing of groups outside government or corporate purview has generated notoriously absurd responses from authorities, including accusations of "extremism", infiltration, and wrongful arrest. If this sounds frightening, then I suggest you get over it quickly, because this is going to be the norm for many years to come. The evils of the world are not undone by apathetic naysayers anymore than they are undone by mindless mobs. Without the coordinated actions of aware individuals with a common focus, nothing is going to change.
This group could be something a simple as a local barter network or a political discussion forum, or, a complex national organization geared towards tangible political action. It doesn't matter as long as it's based on the promotion of Constitutional freedoms, and its leadership is decentralized. Just make it happen…
At bottom, if we want to fight back against a system we cannot take back through traditional means, then we must learn to walk away. If the system feeds us, clothes us, and shelters us at will, then ordinary protest is pointless. Our tender parts are in a rusty vice on the autocratic workbench and until we pull them out, no amount of screaming and pounding will improve our situation. Independence is won through the constant striving for self responsibility. Freedom is won through a position of personal strength, not weakness and self-enslavement.
Numbers alone do not make a movement, and the elites we currently work to supplant are not going to flinch at a few random protests. In all likelihood they will welcome these actions as a useful distraction. Tyrants don't fear the torches and pitchforks anymore. What they do fear is balanced insight, self reliance, and exceptional force of will. A handful of men with these attributes are far more dangerous to a corrupt system than thousands of citizens driven only by insatiable anger. To overcome oppression, we must first overcome ourselves. The ability to step outside the paradigm, the ability to act without permission, and charge the gates without apprehension, is the key to toppling totalitarian systems and exposing the great lie of our age; that we cannot exist without the cage we were born into.
Guest Post: Want To Defeat The Banks? Stop Participating In The System!
Bob Chapman on The Financial Survival for October 24, 2011
The Financial Survival 24 Oct 2011 : strong gold market today they could not get it down says Bob Chapman, Britain could leave the EU, there is no reason for them to be in the EU in the first place, the US is probably getting ready to go after Syria the troops in Afghanistan they are probably being held to go in Syria . . . QE3 is probably coming and it could be in the form of the government buying toxic assets another trillion or so to get liquidity to these banks …
Bob Chapman – The Financial Survival 24 Oct 2011
The rising tide against Obama, with his current violation of the War Powers Act now setting him up for impeachment, in combination with the growing chorus supporting Glass-Steagall, should tell us that something very big is lurking, just over the horizon of current history. It is our job to bring that desired future into being.
Also see . . .
Obama Undone: The Edge of Impeachment
Sorry. Too Big to Jail!
by Barry Ritholtz
A bizarre meme seems to have popped up recently regarding prosecuting banks for fraud and other crimes. What makes it weird is that its not exclusively coming from the usual collection of asshats and idealogues. Very little that tumbles out of the piehole of Megan McArdle suprises me — her record precedes her. But a few others have surprisingly been picking up on this theme. Even Roger Lowenstein had a Bloomberg column with the unfortunate headline No Jail for Economic Crisis May Mean No Crime.
By that logic, O.J. didn't kill Nicole Simpson and Ronald Goldman.
Thus, we are forced to interrupt are usual cheery blather for a little schooling about what the rule of law is, why it needs to be protected.
Let's start by noting that there is a major conflict between Treasury/Justice Department and the banks, all of whom received major bailout dollars. You tend not to want to prosecute companies you just showered with 100s of billions in cash and now own a substantial stake in. This is yet another reason why Uncle Sam not be in the bailout business: It prevents the DOJ from doing its job.
Next, lets note the difference between a high profile CEO perp walk and busting a minor bank criminal. While lots of people are calling for Angelo Mozilo's head, I believe the more productive path to law enforcement is starting with the known law breakers and proceeding from there.
This is not a glamorous approach to law enforcement, It is a slow laborious grind. As I presented to the National Association of Attorneys General, there are 10 major areas of bank and mortgage fraud:
1. MERS
2. Mortgage Pools (Warranties & Reps)
3. Bad Securitization (Quality)
4. "Misplaced" Mortgage Notes
5. Force-Placed Insurance
6. Illegal "Pyramid" Servicing Fees
7. Document Fraud for Sale
8. False Affidavits, Perjury (Robo-Signing)
9. Foreclosure Mills, Process servers exasperate problem
10. Active Servicemen losing homes while on tour of duty
Of this list, five issues are prosecution-ready, where individual states have jurisdiction. These include: 1) Force-Placed Insurance; 2) Illegal "Pyramid" Servicing Fees; 3) Fraud Documents for Sale; 4) False Affidavits, Perjury (Robo-Signing) and 5) Foreclosure Mills, Process servers.
There is an immense paper trial for the first two. The issue of Force-Placed Insurance represents such an egregious, embarrassing conflict of interest, that its hard to imagine any publicly traded bank is going to want to defend that in open court. Bring a few actions against the majors,get an agreement to permanently stop the practice, and a big fat fine, then move on to the next item on the list. Do the same for the illegal "Pyramid" Servicing Fees wrongfully charged by a few loan servicers.
As an aside, Lender Processing Services (LPS) is a monopoly, handling — or should I say mishandling? — more than 50% of all mortgages for the major banks. The Justice department should be doing an Anti-Trust prosecution, perhaps forcing a break up. Maybe some competition in this space will yield some competence as well.
Back to the our list: Fraud Documents for Sale and the Foreclosure Mills / illegal process servers can be pursued on a case by case basis. work with the foreclosure defense bar to track down many examples of egregious criminality here.
In my opinion, the area that is most ripe for criminal prosecution are the False Affidavits/Perjury aka Robo-Signing. Treat this more like a drug kingpin than a bank fraud crime. Bust the low level eejits who did this, granting immunity for cooperation. Find who ordered them to perform the fraud, and then their boss and so on. Somewhere in between the $8 per hour, former burger-flippers hired as robo-signers and the CEO is a mid-level bank executive who decided to systemically break the law. This is the person who turned what used to be a simple process of filing legal paperwork into a criminal enterprise. THAT motherfucker needs to go to jail.
Just because Angelo Mozilo is not in jail does not mean no crime was committed. Prosecutors need to focus on the low-level criminality within banks, and work their way up.
Do that, and we restore confidence in nor only our financial institutions, but our society and constitutional principles as well. Fail at that and Japan's decade long recession looks more and more like out future.
Previously:
Foreclosure Fraud Reveals Structural & Legal Crisis (October 5th, 2010)
Why Foreclosure Fraud Is So Dangerous to Property Rights (October 12th, 2010)
Time for Criminal Charges To Be Filed . . . (October 14th, 2010)
Why Is Due Process a Big Problem for Banks? (October 23rd, 2010)
Follow the Money: How Systemic Bank Fraud Contributed to the Financial Crisis (NAAG presentation, April 2011)
Dodo Bird Bankers (May 9th, 2011)
Sources:
No Jail for Economic Crisis May Mean No Crime
Roger Lowenstein
Bloomberg, May 12, 2011
http://www.bloomberg.com/news/2011-05-12/no-jail-for-economic-crisis-may-mean-no-crime-roger-lowenstein.html
Is Another Major Mortgage Investigation Really Necessary?
Halah Touryalai
Forbes, May. 17 2011
http://blogs.forbes.com/halahtouryalai/2011/05/17/is-another-major-mortgage-investigation-really-necessary/
Video: Taibbi vs. McArdle on Goldman
Matt Taibbi
Rolling Stone, May 16, 2011
http://www.rollingstone.com/politics/blogs/taibblog/video-taibbi-vs-mcardle-on-goldmans-responsibility-to-its-clients-20110516
Rule of Law: Banker Criminality Demands Prosecution
Students and parents, wake up: your only salvation lies in political engagement and action.
Of all the exploitative systems in the U.S., none is more rapacious than the Education Cartel. Like the proverbial frog that is unaware that it's being boiled because the water temperature rises so gradually, college students and their parents are unable to recall what higher education was like before students were herded into debt-serfdom.
Apologists for the Education Cartel like to blame Corporate America or the banks, but the reality is that the Federal and State governments and the employees of the Cartel are willing partners in the exploitation and fraud. How did we get to the boiling-water point where students are expected to take on $100,000 or more in debt to attend college–even a mediocre one?
Answer: immensely profitable Government-backed loans. If the Central State wasn't partnered with the Education Cartel, today's debt-serfdom would be impossible.
The partnership plays out on multiple levels. The San Francisco Chronicle recently reported that "Liberal" U.S. Representative Nancy Pelosi is fighting vigorously to defend the debt-serf-based empires of for-profit "colleges." Why? because these billion-dollar empires give her hundreds of thousands of dollars in campaign contributions (duh!).
("Conservatives" love for-profit "colleges" for the same reasons, of course.)
There is nothing remotely educational or liberal about an exploitative Cartel that provides no measurable value to its students while graduating 10% of them. As reported in The New Republic, when General Accounting Office (GAO) investigators posing as prospective students applied to 15 major for-profit "colleges," every one made misleading sales pitches.
The largest for-profit, the University of Phoenix, graduates less than 10% of its students within 10 years.
You may not get any useful skills or a meaningful diploma, but you will end up with $100,000 in debt that can never be written off. Loans imply risk: nobody forces a lender to take on the risk of lending money to a borrower. If the borrower ends up being unable to pay his debts and declares bankruptcy, the debt is wiped off the books and the lender loses the money that was at-risk.
Thanks to the Central State's partnership with the Education Cartel, student loans cannot be dismissed even in bankruptcy. This makes them unique in the world of credit and debt.
Banks lobbied the Central State for guaranteed, no-risk student loans, and the Government was pleased to oblige. The Status Quo fully supports colonizing the "home" population of vulnerable students and turning them into debt-serfs that banks can hound til death and beyond; they're much more pliable and less troublesome than foreign populations who might rebel against the Imperial lash. (This is drawn directly from theSurvival+ critique.)
The Education Cartel has mastered the art of propaganda. You can read hundreds of media stories on the plight of K-12 education in the U.S., and the only salary numbers you will find are those for entry-level teachers–usually poverty-level wages below $30,000 in low-income states and in the mid-$30,000s in coastal states.
This careful pruning of published salaries naturally creates the impression that teachers everywhere are toiling away selflessly for poverty wages.
But this is not the case for senior teachers in high-wage states. Courtesy of correspondent Anthony T., here is a database of Illinois teachers salaries, compiled from data provided by the Illinois Board of Education (ISBE). Here are a few sample salaries:
Salary: $172,163
Position: High School Teacher
Full/Part Time: Fulltime
Percent Time Employed: 100%
Assignment: Physics (Grades 9-12 Only)
Years Teaching: 30.5
Degree: Master's
Salary: $163,526
Position: High School Teacher
Full/Part Time: Fulltime
Percent Time Employed: 100%
Assignment: Driver Education
Years Teaching: 32
Degree: Master's
For comparison's sake, this is twice the salary of an Associate Professor at one of the top public universities in the world, the University of California.
These high school teachers' salaries are more than triple the median household income in the U.S., which according to the Census Bureau is $49,777 annually.
This is not to suggest that all teachers are pulling in salaries in this range; the point is the Education Industry is extremely selective about which wages, pensions and benefits packages (for teachers and administrators) get publicity.
Apologists for the Education Cartel always compare these salaries with bloated CEO compensation. In other words, $170,000 a year and $120,000 a year pensions (not counting medical benefits) are "cheap" compared to $30 million pay packages.
Missing in this snapshot is the relative scale: there are about 5,000 CEOs of publicly traded companies which can support bloated CEO pay, while there are 22.5 million public sector employees, millions of employees in the Education Cartel and tens of thousands of bureaucrats, senior teachers, etc.
In other words: let's say we just expropriate ALL corporate profits for Central State spending. Corporations skimmed $1.6 trillion last year, record profits, and companies without GE's tax-avoidance Panzer divisions foolishly paid some $350 billion in corporate taxes, leaving $1.25 trillion to be expropriated.
Given the $1.6 trillion Federal deficit and the states' $150 billion deficits, that means taking every dollar of corporate profit would still leave us a $500 billion Government deficit. If we look at government expenses, we find that roughly 80% are personnel-related: salaries, benefits, pension costs, outside consultants, etc. Most of the Federal entitlement and Defense spending is also direct transfers to beneficiaries and employees.
One person's "waste" is another person's $150,000 a year salary and $100,000 pension.
Since the Federal government spends $3.8 trillion and state and local governments spend another $1.5 trillion, then we can estimate that the State (all government) accounts for $5.3 trillion, or 36% of the entire U.S. GDP.
The state of California currently spends $3.3 billion or 3.2% of its annual budget on the University of California system.
In other words, it's not that there's "no money for education"–it's that trillions of dollars are being squandered on other "priorities" like prisons, $1,000 per gallon fuel in Afghanistan, $170,000 a year "defense consultants," pension payments, etc. etc. etc. Public-sector toadie California Governor Jerry Brown is out whipping up support for his "increase taxes or else you all die" campaign by threatening students with higher tuition and fees–as if they haven't already been stripmined for years by skyrocketing fees: Brown warns of soaring UC costs in all-cuts budget.
In other words, if you don't give us more tax money, we're going to nail students–even though the UC system accounts for a meager 3% of the state's bloated expenses.
This is propagandistic thuggery at it's best/worst.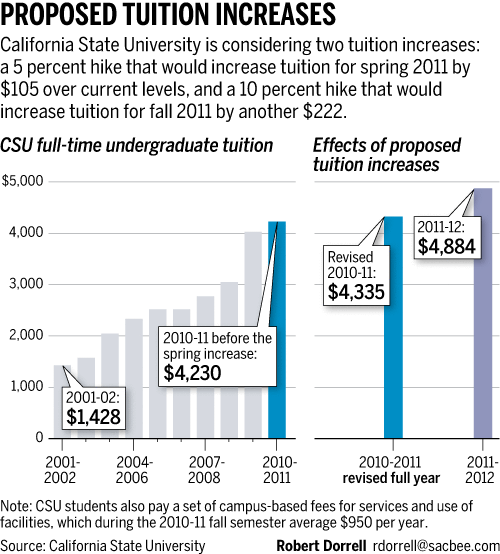 Meanwhile, The S.F. Chronicle published an article stating that 30% of K-12 spending had nothing to do with what goes on in the classroom–it's all educrat bureaucracy. On the university level, here is a chart illustrating the same trend in the UC system: administration headcount climbs regardless of any other conditions, as do administrative salaries: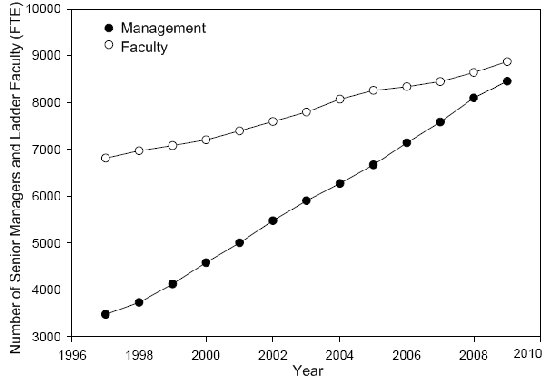 Students, wake up: the reality is actual classroom education is not a spending priority, on any level. The priority is herding you into lifetime debt-serfdom. The state of California is whining that it's broke and can't support its public universities, yet the UC system absorbs a trivial 3.2% of its budget.
Where the state once subsidized about 2/3 the cost of its public university education, that has shriveled to 20% as tens of billions are funneled into bloated pensions and skyrocketing healthcare benefits for retirees and current workers.
As education costs outstrip inflation by leaps and bounds, who's looking at where the education funding is going? Those benefiting from the Education Cartel are like the nephews and nieces living in the alcoholic, abusive, rich relative's rotting mansion.They are silent about the abuse because their only goal is to get their share of the swag.
How many educators refuse to oil the debt-serf machinery? How many are willing to publicly broadcast the endless gaming, graft, fraud and grifting that plays out in the Education Cartel? How many speak truth to power as bloated administration costs crowd out classroom spending?
How many other public-sector employees are calling for cuts in the 97% of the state budget which isn't spent on the university system so more funding can be channeled to the top-tier education that everyone agrees is the future of our economy? How many voices are there in favor of slashing administrative headcount and costs back to 1996 levels so the funding could be redirected to classroom education?
Expecting the system to reform itself is a futile fantasy. Expecting tuition costs to double every few years and students to fill the gap with another trillion dollars in borrowed money is not just self-defeating for society, it is rapacious. Courtesy of the excellent dshort.com, here is a chart of inflation from 2000 to Q1 2011. In a low-inflation decade, tuition has more than doubled. This is the acme of unsustainability. Students loans are the only sector of credit which is expanding, and they now exceed $900 billion.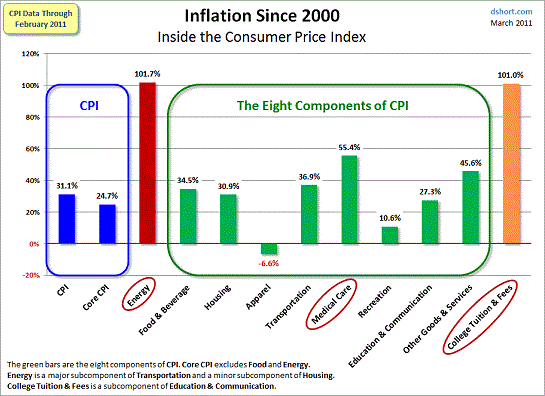 By all means, blame the rapacious banks for student loans, but please note the banks' partner is the enabling power and the enforcer: the Central State, and the Education Cartel which feeds off the rising costs and debt-serfdom of its "customers," the students.
Oh, and don't forget the mainstream media, that willing handmaiden to debt-serfdom. My oh my, the vaunted, self-glorifying Washington Post reaps most of its profit from its ownership of a for-profit diploma-mill, mostly funded by debt-serfdom and Central State swag: How Team Obama is Wreaking Havoc on The Washington Post.
Wake up, students and parents. It's time to become politically aware and politically active. You're not going to escape debt-serfdom passively accepting passage to the slaughterhouse. You'll have to demand radical changes of institutions and fiefdoms which "came to do good and stayed to do well," and demand an affordable education for the real world instead of a gatekeeper's worthless stamp of approval.
Related entries:
The Ratchet Effect: Fiefdom Bloat and Resistance to Declining Incomes (August 23, 2010)
The Irrationality of Public Teachers' Pay Scales (January 5, 2010)
It's Time to End the Student Loan Rip-Off (February 25, 2010)
The Lifecycle of Bureaucracy (December 2, 2010)
Inflation Is Rampant in Tuition, Healthcare and Property Taxes (December 1, 2010)
Readers forum: DailyJava.net.
| | | |
| --- | --- | --- |
| Thank you, Glenn D. ($5/mo), for your awesomely generous subscription to this site– I am greatly honored by your support and readership. | | Thank you, Tim L. ($coins), for your thoughtful and most generous contribution of old dimes and nickels to this site– I am greatly honored by your support and readership. |
Students: You Are Exploited Debt-Serfs
Karl Denninger of The Market Ticker asks an important question in an article posted by him today:
"Why Is Glenn Beck After The SEIU?"
To me, Denninger's argument is rational and logical.
Look when you take out a mortgage, you sign a contract. The contract says you will pay $X for Y period of time or the bank has the right to come take the house back from you and sell it to someone else. Ok, so what's the problem? You decide to do the second – not pay. Before someone pipes up and says "but that's immoral!" let me point out that the Mortgage Bankers Association themselves did the same thing. They "jingle mailed" their headquarters building, which they bought and then dropped in value.
For comic relief, be sure to see the clip posted on the Market Ticker blog.
For Lerner, to advocate a mortgage default strategy for homeowners got him branded a terrorist and is under attack by Beck, certain Tea Party organizations and the banks.
In another case, linked I believe in the new-found terrorist rhetoric, Bernard von Nothaus the silver coin minter was called a "unique form of domestic terrorist" for issuing silver money with real intrinsic value. Now that is unique!
Tony Cartalucci describes in fine detail the alleged threats posed by Mr. von Nothaus and ultimately the danger posed any citizen who speaks out against theft and abuses by private bank cartels in his article Economic Terrorists: That's You.
The threat von Nothaus posed was not to the US economy, nor the US Constitution, but rather to the corporations that have hijacked and monopolized them. By offering Americans an alternative to the private banking cartel's collapsing fiat currency, von NotHaus gave us an opportunity to entirely replace this corrupt system, become independent once again as a nation and restore the US Constitution.

To help explain why we are terrorists for resisting receivership under crony-corporate fascism, there is News Corporation's Glenn Beck. News Corporation itself is a member of the corporate-financier run Council on Foreign Relations, with Fox News' Rupert Murdoch holding an individual membership as well.

Glenn Beck has recently sided with US Attorney Tompkins' decision, calling Bernard von NotHaus "misguided" and that what von NotHaus was doing was "illegal." Beck goes on to say that von NotHaus' idea of using sound currency based on tangible assets is "not the answer."
In conclusion, Beck is a fake defender of the people and the Constitution – pure psyops theater. Arguing the merits of the homeowners decision and its nuances isn't what this is about. We are seeing the beginning of a concerted effort to charge any critic of the banks, the financial industry and particularly the Federal Reserve as a domestic terrorist. But, if you're simply a ne'er-do-well, don't worry, there's only a debtors' prison waiting for you.
Economic Terrorists: That's You
Before the United States House of Representatives, Committee on Financial Services, Monetary Policy and the State of the Economy, March 2, 2011
Mr. Chairman,
Every day we hear stories about rising prices. Whether it be food, gasoline, or clothing, the cost of living is going up, and not just for Americans, but for people around the globe. The Federal Reserve's program of quantitative easing has taken some of the blame for this, and rightly so in my opinion. This program, known as QE2, sought to purchase a total of $900 billion in US Treasury debt over a period of 8 months. Roughly $110 billion of newly created money is flooding into markets each month, markets which are still gun-shy after the events of the last few years. Banks still hold underperforming mortgage-backed securities on their books, and are hesitant to loan out further money, holding well over a trillion dollars on reserve with the Fed. Is it any wonder, then, that this new hot money is flowing into commodities around the world?
Cotton is up over 170% over the past year, oil is up over 40%, and certain categories of food staples are seeing double-digit price growth. Yet while the Fed takes credit for the increase in the stock market, it claims no responsibility for the increases in food and commodity prices. What is always lost on economists is that inflation is at root a monetary phenomenon. As the money supply increases, more money chases the same amount of goods, and prices rise. There may be other factors that contribute to price rises, such as famine, flooding, or global unrest, but these effects on prices are always short-term, not long-term. Consistently citing rising demand or bad weather while ignoring monetary policy is a cop-out. Governments throughout history have sought to blame price increases on bad weather, speculators, and a whole host of other factors, rather than acknowledging the effects of their inflationary monetary policies.
We must also remember that those policymakers who exercise the most power over the economy are also the least likely to understand the effects of their policies. Chairman Bernanke and the other members of the Federal Open Market Committee were convinced in mid-2008 that the economy would rebound and continue to grow through 2009, even though it was clear to many observers that we were in the midst of a severe economic crisis.
These policymakers are also the last to feel the effects of inflation, in fact, they benefit from it. Inflation, that is an increase in the money supply, results in a rise in prices, but those who use this new money first, such as government employees, contractors, and bankers are able to use this new money before prices begin to increase, while those further down the totem pole have already had to deal with price increases before they see any of this new money.
For too long the Federal Reserve's monetary policy has led to higher prices and a decreased purchasing power of the dollar. It is well overdue that this Committee exercise increased oversight and scrutiny of the Fed's actions, and I look forward to further Committee action to rein in the Fed.
Ron Paul
www.house.gov/paul
Copyright Dr. Ron Paul
Ben, Stop Depreciating the Dollar
That the bankrupt US is living on borrowed time between various can kicking episodes is by now not news to anyone. Neither is it news that as long as the broader population finds brief distractions, such as the latest iPad app or the occasional Charlie Sheen scandal, which keep them busy in peak advertising hours, few if any will care about the sordid details of the unsustainable big picture. This ongoing apathy is starting to get to some market commentators most notably Paul Farrell of MarketWatch who summarizes events in the past 2 years as follows: " Admit it, we lost the opportunity. Jail a bank CEO and Wall Street will miraculously reform? You're joking, right? Wall Street got away with a "legal" bank heist. Today the should-be/would-be inmates are running the prison. Wall Street's corrupt banks have lost their moral compass … their insatiable greed has become a deadly virus destroying its host nation … their campaign billions buy senate votes, stop regulators' actions, manipulate presidential decisions. Wall Street money controls voters, runs America, both parties. Yes, Wall Street is bankrupting America." But nobody cares. So what would make America care? Here are the four time-bombs which Farrell believes will be sufficient to blow up Wall Street.
From MarketWatch:
4 ticking time bombs that will ignite the Wall Street revolution

Yes, the rich live in a different world. And no, information won't change them. But a revolution will. Revolutions build slowly over a long time. Then, suddenly, a critical mass, a flash point, something totally unexpected ignites the ticking bomb.

It happened recently in a remote Tunisian village. Mohamed Bouazizi, a 26-year-old college graduate, unable to pay bribes, set himself on fire to protest police confiscation of his unlicensed vegetable cart. That triggered a revolution. And his death rapidly led to the collapse of a 24-year dictatorship.

Today we have four hot time bombs, tick-ticking, soon to make history; any one can easily accelerate the revolution that's already killing Wall Street from within.

1. Wealth gap: Super-Rich vs class wars, death of democracy

The gap: In one generation, America's wealthiest 1% has exploded from 9% to 23% of America's income, while middle-class income has stagnated. Even Buffett admits: "There's class warfare, all right, but it's my class, the rich class, that's making war, and winning."

But my rich friend tells the real story, of their social disconnect. The rich just don't care. They live in a different world, live by a self-centered code lacking a moral compass. The public welfare is honored only if supported by tax benefits.

The wealth gap is widening and soon something unpredictable will ignite a Wall Street revolution.

2. Wall Street's doomsday capitalism vs rule by anarchy

A key Supreme Court decision accelerated and codified Wall Street's ability to use billions stolen from taxpayers to lobby Washington and solidify its power, all for its own self-interest, through campaign payola, senators' votes, presidential access, manipulation of regulators, grabbing tax benefits, etc. And it's every man and woman for themselves.

Don't believe it? Know this, democracy is dead and you're in denial. Wall Street CEOs and Forbes 400 billionaires are either engaged in a secret conspiracy, or a classic anarchy picking apart America, oblivious of the fact they are setting up the next big revolution.

3. Pentagon's perpetual war machine vs America's budget time bomb

The mathematics of our $75 trillion Social Security and Medicare deficits often seem insurmountable, but can be recalibrated. However, the war-loving mindset of America's neocons — fueled by China's military actions, the insatiable expansion of our military spending and a Pentagon prediction that global population growth — is putting more and more pressure on the world's scarce resources, and will, in turn, increase global wars and the demand for more war spending, increasing the risk of sudden revolutions everywhere.

4. Global population explosion vs resources, jobs, better lifestyles

As the world population explodes from 7 billion to 10 billion in the next generation, the demand for more jobs and the pressure on scarce resources will increase, while expectations will fall as the ratio of haves to have-nots increases, making the world all around Wall Street a burning powder keg setting up a revolution.

Bottom line: Forget jailing Wall Street's dictators. It's naïve and too late. We missed that opportunity. But a revolution will do the trick, give us a second chance to jail the crooks.

Until then, remember, these four factors are building to a head, merging into a critical mass that will accelerate into a revolution and destroy Wall Street from within: The widening wealth gap, capitalism's new rule-by-anarchy, the high cost of feeding the Pentagon's costly war machine, and the huge global population explosion.
Perhaps Paul is right. One thing is certain: the ongoing divergence from economic equilibrium driven by a global central planning cartel which hopes to fill valuation holes will infinite money printing has been working so far, yet the simplest laws of physics say that eventually every equilibrium asserts itself. So far most guesses of how much longer this can continue have been wrong. And whereas we indeed had a chance to reassert a fair market value after the Lehman crash, we simply papered it over with another round of the same failed policies that resulted in a historic crash. What is truly interesting, and deserves a study in itself, is the seemingly endless ability of those in control to delude not only themselves but all those around them. Alas, this is primarily driven by the non-overlap of the various key cycles in the current world: from the hedge fund manager performance cycle of a few months at most, to the Wall Street bonus cycle of one year, to the political cycle of 4 years, and lastly, to the actual business cycle which lasts between 7-10 years, and the generational cycle of just over 20 years. As long as there are extensive conflicts of interest pushing and pulling all four of these in different directions, and as long as the Fed believes it can control them successfully, the kinds of time bombs that Farrell writes about are guaranteed.
h/t Steve
Paul Farrell On The 4 Time Bombs That Would "Ignite A Wall Street Revolution"